Around Preveza 20 June - 4 July
We had two bits of business in Preveza: see whether we could find a yard we liked and could afford for laying up; and sorting out Ann's teeth, as she had one broken and painful.
We had seen that there was a yard in Vathi Creek, half a mile to the north. None of the pilot books recommended it - in fact only Heikel mentioned it, and somewhat dismissively. We cycled there early in the afternoon, to find the owner at lunch, but a French liveabord explained the workings of the yard, and why she and her husband liked it so much. Later we talked to Demitrios, the owner of Morgarona boatyard, and got a quote for the winter. Overall we liked the place, which seemed somewhat ramshackle, but friendly and, I guessed, trustworthy.
Later we took Razzmatazz across to anchor off Aktion, and got a quote from them. It was only slightly more that Morgarona, but we didn't so much like either the big yard atmosphere or the impossibility of cycling through the tunnel into Preveza. So, we chose Morgarona. We'll know in the spring whether this was wise!
| | |
| --- | --- |
| | |
| The anchorage north of Preveza | Mosaic at Nikopolis |
In between times we explored the town by bike, which allowed us to find the real shops away from the front. We cycled out to Nikopolis, a ruined Roman town built by Augustus Caesar to celebrate his victory over Mark Antony. And we watered Razzmatazz on the town quay, coming alonside between two boats moored bows-in, with a foot to spare at each end. Instead of cursing us for fools, our new neighbours applauded the manoeuvre!

To sort Ann's teeth, we asked in the town council offices, and the lady we spoke to recommended her dentist near the castle. We walked there and were admitted without any human contact to a comfortable reception room on the second floor of the apartment block. After 10 minutes the dentist himself emerged and enquired about Ann's problem in fluent English. He then took her straight into his surgery and removed the broken bits of tooth and gave her a prescription for painkillers. She was to come back in a week, when the tooth had healed, to be measured up for a crown. At no stage did we she have to fill out any forms, or pay any money, or even supply her name and address!
Gulf of Amvrikikos
We now had to be back in Preveza in just under a week. We decided to explore the Gulf of Amvrikikos, an inland sea that runs some 20 miles inland from Preveza. The afternoon breeze took us almost to the end, with My Lion pulling us at a good speed. Rather than go all the way to Amfilokias, the rather exposed town at the head of the gulf, we anchored in Ormos Paliomilou, a bay about 4 miles short, with excellent shelter from the north west. The idyllic peace was somewhat disturbed later in the evening when a disco in what we thought was a farm barn started up. However, it didn't stop us falling asleep the moment we lay down.



| | |
| --- | --- |
| | |
| Vonitsa castle from the anchorage | The anchorage from Vonitsa castle |
Next morning we beat back up the gulf to Vonitza, with long tacks across to the shallows on the north shore. Vonitza is a nondescript town in a beautiful setting, overlooked by the ruins of apparently the second largest byzantine castle in Greece, with a town quay protected by a breakwater, a good selection of tavernas, and, best of all, an anchorage to the east protected by an island and with a superb view of the castle.



| | |
| --- | --- |
| | |
| Inside Vonitsa castle | Monastiraki |
We spent a couple of days enjoying Vonitsa. We wanted to explore the castle. First we walked round it, along a stream through woods under the walls, where we met a snake, more nervous of us than we of him. Then we followed a path through the town to the castle gate. This was padlocked. However, when I looked through the ancient keyhole, there was a man with a big guard-dog, but dressed too casually to be a proper guard. We hailed him, and he opened the gate for us, explaining that every time the authorities renewed the padlock, it was his duty to break it, so that his dog, and other visitors, could enjoy the castle. So, we entered and wandered all round the extensive ruins, enjoying the splendid views.

Next day, we cycled south inland to Monistaraki, an attractive village in the hills at just under 300m. We bought a welcome beer, but none of the restaurants was open for lunch. So we continued our circular route, now heading north-east. After a wrong turning, we joined the main road along the coast of the gulf about 10Km as the crow flies from Vonitsa, and finished our ride very hot and sweaty, and without any lunch.
Long tacks to Corfu
Next day we had a most enjoyable beat back to Preveza, with a F4 and flat seas, and tied to the town quay. After Ann's dental appontment next morning, we had a week until the next, so decided to explore northwards to Corfu. We set out in a light north-westerly, and stopped at Ligia when the wind failed. We moored to the outer breakwater, and found our fortress lookalike kedge wouldn't hold, and had to unearth our Kobra, which is a bit like a Delta, and worked. Ligia is an entirely artificial harbour, built with EU money, and the village boasts a taverna, small shop, a few houses and largish hotel. Not a great destination, but better than motoring 5 miles to the first anchorage.



Mongonisi, with Carnayo on the left

Next morning, a light northerly persuaded us to sail offshore to Paxos, and we entered Mongonasi creek mid-afternoon and moored to the north shore. A French yachtsman kindly took our lines, and later we were able to reciprocate. Mongonosi has a taverna behind the north quay, busy with flotillas, and a cafe/restaurant Carnayo, where we first had a drink while we arranged to leave our dinghy alongside, and later a deliciously Italian dinner of carpaccio beef.

The following day we cycled on an easy road to Gaios, and then on a wickedly steep road to the highest point in the centre of the island. The views were a bit disappointing, because Paxos is thickly wooded everywhere, and we only had occasional glimpses of the coast and sea on either side. However, we got some much needed excersise!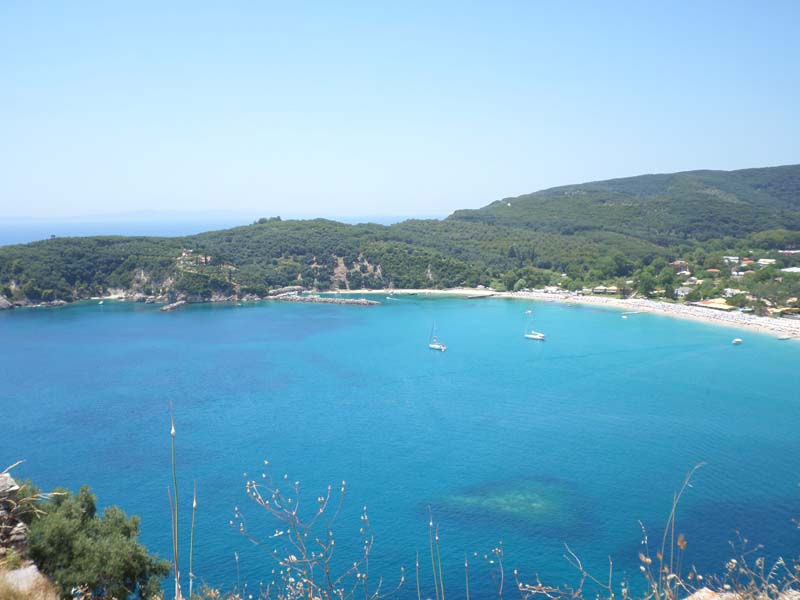 Ormos Valtou from Parga Castle
Parga Village from Parga Castle

The forecast for the next few days offered light north-westerlies, so, given that we were not in a hurry to reach any particular destination, we decided to reach to and fro between ports on the islands and the mainland. We set out for Mourtos, to the north-east, but when the wind veered somewhat, changed heading for Parga, and rounded the imposing headland into Ormos Valtou late in the afternoon. The anchorage in the bay was quite full, and we couldn't find anywhere to anchor with less than 8m, and it was quite choppy too. So, somewhat hopefully, we poked our nose into the tiny harbour, which already flotillas in place. There was a space on the beach, which we could just squeeze into if people shifted their dinghies. They did, and lined up with extra fenders to help us in safely.

This is a lovely place. Our bows were in water a few inches deep, while there was 2 or 3 metres under the keel. The beach, where we buried our bower anchor, is of clean, golden sand. On the west quay, where small local boats are moored, there are flowering trees, and behind the beach, an old wooden boat has been dragged up and filled with flowers. In the middle of the beach is a tap with potable water freely available. You can visit the town by walking along the beach and clinbing up a hill to the entrance of the once impregnable castle and down steep lanes the other side, or take your dinghy or a ferry around the castle mound. We decided to stay a second night, and from about 10 am had the harbour almost to ourselves. We landed the bikes, which was a bit of a mistake as we ended up pushing them up impossible slopes more than riding. We toured the ruined castle, which is open to anyone to wander at will.



| | |
| --- | --- |
| | |
| Gaios town quay | Moored on north side of Ag Nikolaos |
Next we aimed for Gaios, the main town of Paxos, and only about 3 miles north of Monganasi, but so what! We'd cycled along the town quay, and thought it would be likely crowded, and also possibly expensive, so moored on the north side of the island of Agios Nikolaos, which shelters the town. Here, the water is quite clear and clean for swimming, and it is only 10 minutes in the dinghy to the town quay. You could probably leave a boat her unattended for a day or two, even in bad weather. The only risk is that a boat on the quay opposite will drop its anchor over your chain.

The town is obviously touristy, but delightful anyway, with a couple of well-stocked supermarkets, several excellent bakers, and hardware and electrical shops, though no chandlery. We were able to buy a detailed walking map in a bookshop.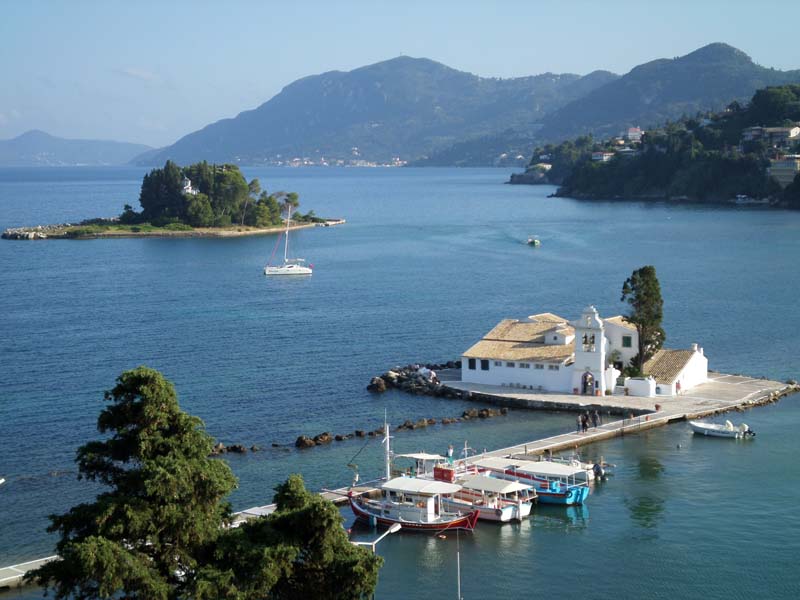 The end of the runway

We phoned the dentist and learned there was a two-day delay on the crown, so we decided we had time to visit Corfu. A gentle, but steadily increasing westerly, took us across the channel between Paxos and Corfu pulled by Mr Lion, until, off the headland of Ak Levkimmis, it was F5/6, and very gusty from the mountains of Corfu. With a couple of reefs, we eased inshore into the large gulf before Corfu town. By tea-time we were off the island of Pondikonski. This beautiful island lies almost immediately under the flightpath into Corfu airport, and only around half a mile from the runway. We anchored in 3m, and took the dinghy to explore the island, with its chapel and bar on smsll hill, and then went ashore to the bar on the hill overlooking the anchorage. Our wifi had stopped working several days before, so we were glad of the bar's.

Overnight, the planes only stopped between about 11:30 and 3:30. So, lovely anchorage that is was, we were happy to leave early next morning.
Back to Preveza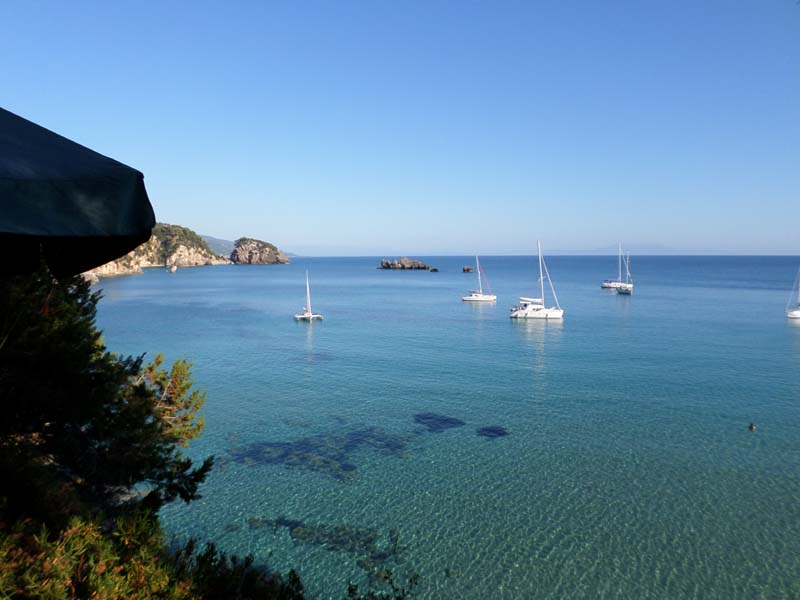 Two Rock Bay

We'd done 30 miles the previous day, were some way from Preveza, and the forecast for the next few days was for light northerlies, so we thought we'd better head back, and leave exploring Corfu for later. So we set out for Mourtos on the mainland, and took all day, with some motoring, to cover the 20 miles. Off Mourtos we anchored in Monastery bay, and went ashore for an indifferent meal, but good wifi, in the taverna. Mourtos itself is a pleasant, but undistinguished village. But just off it lie two beautiful wooded islands, and there are several channels between them and the mainland with good anchorages. We explored in the dinghy, and found a small British catamaran anchored in End Bay, in water too shallow for most yachts - clearly the place for us next time. We asked in a cafe in Mourtos where we could get water, and the proprietor let us use his hose to his tap, and refused payment.

From Mourtos we sailed slowly down the coast tp Two Rock bay, with the clearest water anywhere, and goats moutaineering on the cliffs, and then in an increasing wind to Preveza, ready for Ann's visit to the dentist.