Goodbye Sardinia 29 April - 14 May
We had a wonderful send-off from Nautica Pinna in Bosa. We had introduced the yard to the CA after our first winter layup there, and last winter they had 6 CA yachts in their yard, which allowed for some enjoyable socialising in between the typically unpleasant jobs.
CA lunch in Bosa
From Bosa we sailed to Carloforte on Isola di San Pedro, where we got reasonable April rates for sitting out a Mistral for three days. We cycled across the island to the spectacular west coast, ate splendidly on the quay and socialised with the crew of another English cat that was based there. Then a short 10 miles to Sant'Antioco, where we anchored in 1m on the flats off the town. The coastguard told us to move as they wanted to moor a fireworks barge just where we were. Moved 100m to anchor among the fishing boats and enjoy a splendid display the following night.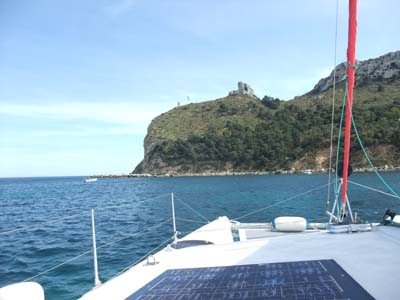 Near Cagliari
Finally after a few days on the south coast killing time until we had a favourable wind we moored in the friendly, cheap but ramshackle Marina del Sole in Cagliari while another Mistral blew through. A stronger crew could have used these Mistrals to fly downwind to Sicily. But, if we sail overnight (which is not often), the single person on watch doesn't really want to be reefing down, and the person off watch would prefer smooth seas to sleep. And we are not in a hurry. So we wait.