Argostoli to Preveza
After a quiet night at anchor, it was time to see the authorities and sign in. All was calm, and there was bags of space on the quay, so we tied up alongside, and went to see the port police. After a long, but perfectly pleasant process, we had everything except our cruising permit. This would require a visit on Tuesday (Monday being a holiday) to the tax office, but not before 11:00, as the person resonsible (and only this person), was staging a strike! And the PP didn't like mooring alonside, so we'd have to move.
So far, we'd only moored end-on a few times in Italian marinas, and always with lazy lines and a marinero to assist. We prefer to moor bows-in, because we have transom-hung rudders, and anyone looking from astern can see right into our living and sleeping quarters. So, we prepared the kedge, flaked out the warp, fixed our stem fenders, and went for it. Perfect! We nudged the bows to the quay, relying on the stem fenders, and Ann was able to skip lightly ashore. Later, as the breeze picked up, we found it better to take lines from the stern cleats to the quay, and from the bow cleats diagonally to the other side's bollards.
We spent several days in Argostoli, congratulating ourselves on reaching Greece at last, buying a SIM for our Wifi thingy, enjoying the market stalls, and cycling into the countryside around. We also met Leonado, who runs a cafe on the quayside, and acts as a fixer for yachtsmen. Through him, we arranged guardianage while we left Razzmatazz in the abandoned and therefore free Argostoli marina during a brief planned summer visit home.
| | |
| --- | --- |
| | |
| The locked gate | On the way back |
Our best ride was to the castle of St George, above the village of Peratata. This was only some 7Km from Argostoli, but with a climb of 300m provided plenty of exercise. On the way was a Lidl and a Carrefour, but both a bit minimal. The castle was closed for "restoration", that clearly was going to take a long time. But we enjoyed an excellent lunch in a taverna just outside the gates, looking out to Zakinthos. We came back on tiny lanes.

To Vathi
From Argostoli, we planned to sail reasonably directly to Preveza where we hoped to find a good deal for our winter layup. But, first, we planned to meet Will and Carole on Muskrat, their Oyster. We'd cruised together in the Balearics and to Sardinia, but then they rushed ahead directly to Greece. It looked as if we could cross tracks in Vathi, Ithaka.
We set sail into a light south westerly, and it took us several hours to clear south from the Gulf of Argostoli, past the airport. Then we had an easy sail to the south east corner of Kefalonia. We've sinced found that this is not a corner to round later in the afternoon - you'll either get a calm or a vicious head wind. This time we were able to sail for about 4 miles, then got a calm and had to motor to Poros, where we anchored off the beach.
| | |
| --- | --- |
| | |
| Muskrat left, Razzmatazz right | View from the NW |
| | |
| --- | --- |
| | |
| Ann with Odysseus | Cave of the Nymphs |
Next day we sailed in very light winds to reach Vathi, some 15 miles away, late in the afternoon. There was Muskrat, already anchored in the shallows in the south-east corner of the bay, and we spent a convivial 36 hours with Will and Carole, eating and drinking, and visiting the museum, where we met Odysseus.

We also walked up to the Cave of the Nymphs, where alledgedly a shipwrecked Odysseus was woken by some nymphs. Anyway, it was abandoned. Next time we'll take a powerful touch and a rope, and see whether we can explore it.



To Frikes
We set out in light winds, planning to stay in Kioni. However, the north, sheltered quay was somwhat full. I thought maybe we could squeeze in on the inshore end, and we dropped the kedge and aimed for our spot. If we thought we'd mastered Med mooring in Argostoli, we leaned a lesson here. The warp wasn't flaked propely, and jammed. And the boat we planned to moor alongside had deployed his anchor at 45 degrees across our path - so our anchor fouled his line. After some diving to thread a rope under his rode we got clear.
Then I thought we'd try the west shore. Left Ann to keep the boat still in the now brisk north-west wind while I swam ashore to check the depth and holding - less than a metre, and rocky. So, feeling a bit sheepish, we bailed out.
There are no welcome anchorages just outside Kuoni, so we motored round to the bay with Frikes, and anchored in a creek just south.
Next morning, the plan was up anchor and bag a good spot in Frikes. However, "up anchor" took an hour as we'd fouled a ground chain leading to a big fisherman. We managed to winch our anchor to within 2m of the surface, and then I swam down and got a line under the fouled chain.
| | | |
| --- | --- | --- |
| | | |
| Frikes, looking to our mooring | Bay where we caught a ground chain | Kioni, north quay on the left |
In Frikes, there was bags of space. First we tied to the north wall, but were regaled with stories of the ferocious wash that had come in the previous night. So then we got a space in the south-east corner, which allowed us to set long mooring lines, and to step ashore. Anyway, there was no big wash (which apparently comes from passing speeding ships) while we were there.
We enjoyed a goat stew in one of the tavernas in Frikes, then cycled to Kioni. In the evening the crews of two other British yachts came for drinks.
To Meganisi
We'd thought of staying a second day, but next morning there was a lovely breeze, so we set sail for the south end of Meganisi. Managed to hold our large spinnaker (Mr Andrews, because it has a St Andrews cross) all the way past Ak Kefali to the entrance to Port Atheni. Motored round the (twin) bays, looking for a not-too-deep spot, and eventually anchored and tied back to the shore in the north-westerly bay.
After dinner, exploring ashore, we talked to a couple moored to the quay, and flying a CA burgee. When we mentioned, for some reason, that our solar shower was expiring, they insisted on giving us their spare.
Next day we cycled to Vathi, partly for the ride, and partly to find a functioning mobile signal. We met another CA member just putting his boat to bed, and he invited us to tea if we passed his house on our way back. And we did pass his house, and spent a very enjoyable hour discovering that Roger had been a county music advisor, and that we had many interests in common.
Next morning, another favourable wind allowed us to fly our smaller spinnaker (Mr Lion, with a proud Scottish lion rampant) to reach the Lefkas canal. We had to motor to maintain station through the canal. In my endeavour to leave space for boats to overtake, I went too close to the starboard stakes, and we clouted the starboard keel on something really hard - rock or block of concrete. It took us a quarter of an hour or so to break free, and we were obviously concerned there might be significant damage.
After a half hour waited anchored off Lefkas, we were through the swing bridge and sailing close-hauled for Preveza. The wind took us through the entrance and past the port to the anchorage between the fishing harbour and Vathi Creek. We anchored right inshore near a British Prout catamaran. Dave and Mary rembered meeting us 14 years ago, when they'd had a tri and we were both weather-bound in Ilfracombe.A quick swim under Razzmatazz established that we'd done no more than lost some gelcoat off the keel. It was clearly well overengineered!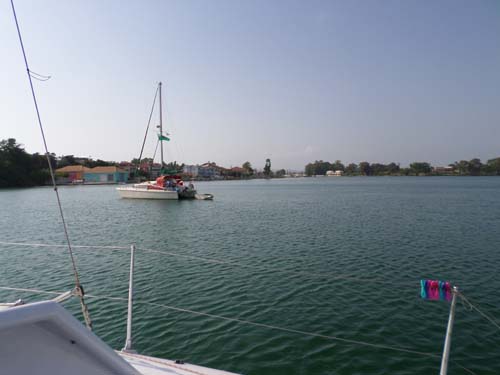 Kyara in the anchorage just north of Preveza harbour