Test Cruise
After spending enough money to buy a new, not-so-small car, I was mighty apprehensive that it might all be a disaster! The test would be our first post-refurbishment cruise.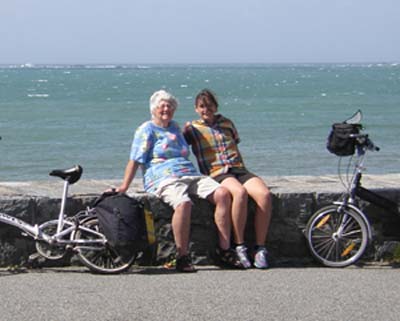 Ann and Ella on the day they cancelled the ferries to Guernsey

Over the late summer (what summer, you may ask!) of 2008 we sailed Razzmatazz from London to her mooring in Woolverstone; pottered for a couple of weeks on the East Coast; then cruised down Channel on the French side; to Chichester to collect our grand-daughter Ella; then to North Brittany; then back to Woolverstone.

We had every kind of wind and sea, although we enjoyed the Force 7, 8 and 9s and very rough seas either at anchor or in harbour.

So, how did Razzmatazz perform?

In a word, superbly

First, the new keels, rudders, prodder, refurbished boom, steering system and mainsail slides all appear to be unbreakable. Nothing rattles any more. We dried out in some fairly exposed places, including Erquy, near St Malo, which is lovely but bumpy in a South Westerly. We enjoyed crashing into some quite rough seas. And we had to do a fair bit of reefing and unreefing in the rough seas as well.

The balance and directional stability are possibly too perfect. Because the rudders are now completely balanced, you can't feel whether the boat wants to turn. However, from the position of the wheels, you can see that the helm is either neutral or carries insignificant weather healm.
On Erquy beach

Surprisingly, the performance seems to be unaffected. Although the new keels must have added lots of extra wetted and cross-sectional area, their bouyancy has also lifted the boat by around 120 to 150mm, so the net effect may be almost neutral. At any rate, we are seeing similar speeds on the dial, and tacking through about the same angle.

The comfort of the new steering arrangement is superb. We both now so enjoy our watches, especially when it is blowing, that the Autohelm hasn't been allowed to show whether it can cope. I find having the clutches for the mainsheet and traveller immediately to hand when I'm steering immensely reassuring - it makes it safe to push the boat harder.