Viavelez to Luaca - Tuesday, 15 July 2003, 14 miles
Tuesday dawned with rain and F0 gusting F1. The battery was still pretty flat, so we decided to motor to Luarca, and arrived at 14:30.
And the sun came out! Actually, we'd begun to worry that North Spain was a big mistake. One couple we'd met in Ribadeo said they hadn't seen the Sun in 3 weeks, and we'd now had 4 days of overcast.
Razzmatazz moored to the harbour wall in Luarca


Luarca provides (free) mooring buoys for yachts about 50m inside the outer harbour wall. The idea is that you moor fore and aft between a pair of buoys and the wall - a very secure arrangement. Provided you moor head to the wall, you have a magnificent view South across the beach to the hills. The inner harbour is for fishing boats and locals, and very picturesque it is too, with tapas bars and the like on 3 sides. The town itself has an extensive street market.
We needed to return our EPIRB, so set out in search of a post office. The tourist office provided an excellent map and directions, but we found the PO only opened in the morning. So, next morning, we set out to negotiate the transaction by sign language. I think we bought guaranteed delivery, but the price seemed unreasonably low, and we worried about it (slightly, anyway), until the renting company sent us a message 2 weeks later to say it had turned up.
Inner harbour at Luarca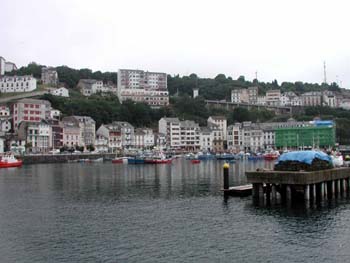 In the evening, we decided to treat ourselves to meal ashore. We found this tricky in Spain: the restaurants are still empty at 10 pm, which is far too late for us. The only way to eat in the evening at a reasonable hour is to go to a tapas bar. Which we did, and ate pretty well at a very fair price. We came out to a cloudburst, but at least we'd managed to air the bedding during the afternoon sunshine, so slept in blissful comfort.
The English and French weather forecasts both promised strong winds. Our neighbours said they were planning to rest up for a day until they moderated, However, we had already decided that the offshore BBC and France Inter forecasts had little relevance to the coastal strip. In principle, there are Spanish VHF forecasts in English and Spanish 2 or 3 times a day. But we only got them twice, chiefly because the broadcasting stations are few and far between, and partly because they sometimes apparently forget to do them. The summer weather pattern seems to be F1 to F4 from West through North to East during the day, and gentle offshore breezes at night. So, we just gave up on forecasts and accepted whatever we got.