Trebeuden to Tréguier - Sunday, 31 August, 24 miles
We had a pretty big tide, running East from around 05:00 till 11:00. So, we decided to make an early start and hitch a ride. Fortunately, the channel into Trebeuden is well lit, so leaving in the dark was no problem, and we could escape at LW.
We set sail just outside, in a Westerly F3/4. We could just lay the course to le Crapaud buoy, where we were able to tack and free off for Bar-ar-Gill, and then for the light on the Sept Iles.
The anchorage below Tréguier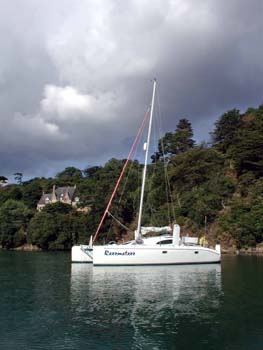 By 09:00, we were entering the Jaudy river, with 4 knots of tide under us, and we dropped the anchor under the Chateau just below Trégier, at 10:30. Indecently early to end the day's cruise, but we wanted to spend some time here.
After a lazy afternoon, doing odd jobs, we dined ashore in the fish shop in the rue Ernest-Renan, where they do a magnificent assiette de fruits de mer in season. We were lucky to find them open - the season was really over, as French schools had gone back on Wednesday.