St Jean de Luz to Hendaye/Hondarribia - Friday, 1 August, 7 miles
We thought we'd rushed out of Spain a bit hastily, and there was no sign of a good wind to push us North up the coast, so we headed South back to the Rio Bidasoa with Hondarribia on the Spanish bank, and Hendaye on the French.
A gentle North Easterly took us down the coast, where we went inside some off-lying rock, les Briquets, that were just awash. In the rio, the anchorage off Hondarribia looked a bit exposed, so we tried to find a space among the moorings off Hendaye. Dropped the anchor close inshore but couldn't make it hold, so tried outside the moorings. We asked a man in what we took to be the official launch whether this was ok, and he said yes, but someone had to remain on board because of the catabatic winds coming off the mountains. This seemed a bit unlikely, given the calm weather, but we asked him for a mooring anyway. He led us to one very convenient for both towns, and explained that Hondarribia was the place to be at night, and Hendaye during the day.
Hondarribia (the large building to the right of the church is the parador)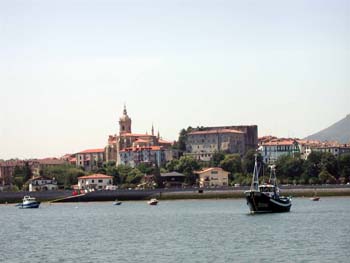 So, we dinghied over to Hondarribia, which had a delightful old walled town on a hill, with a Parador in a windowless castle (the private rooms, we found, were in a new extension facing the rio.)
Next morning, we explored Hendaye, which was a nice little town, not aimed at tourists at all.
Both towns have large marinas, and this is the largest yachting centre for probably 100 miles in either direction. It is also a good base for the West Pyrannees.