San Vincente de la Barquera to Santander - Tuesday, 22 July 2003, 42 miles
Set out at midday into a North Easterly F3. Could almost lay the course to Cabo Mayor, and sailing nicely at around 6 knots. The weather was a bit grey at first, but as the afternoon progressed all the nastiness was left behind to Westwards, and we had sunshine and could see the picas maybe 20 to 30 miles inland.
The royal palace at Santander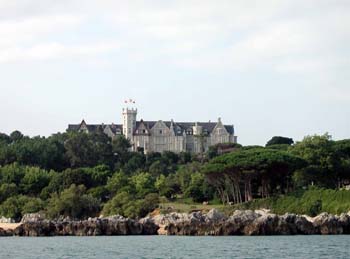 As drew near Santander, passing inside the Isla de Mouro, we came abreast of the royal palace. Ann wondered if their highnesses were in residence, but I thought the charabanc parked by the imposing front entrance suggested a more humble role. Turned out it is now a hospital of some kind.
At 19:50 we anchored in 6m off the yacht club in the town centre. Actually, we anchored twice off the yacht club; the first time, by the time we'd fallen back on the warp, we were in 12m, and I reckoned that meant the anchor might be on the edge of a mud cliff. The pilot book warned that the anchorage was disturbed by ferries coming and going to the nearby ferry port. However, they knocked off at 20:00, and caused us no trouble.
At anchor off the Real Club Nautico de Santander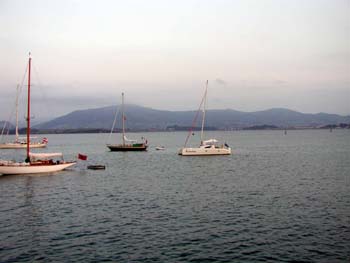 After supper, we explored the town, leaving the dinghy at a ladder immediately opposite, near 3 bronze boys diving into the rio. They'd certainly have been knocked off their pedestals by now in England! A couple of streets back from the front, there was plenty of life, with street entertainers and cafes bustling.
Next morning, we dinghied into the marina just beyond the yacht club, so that we could fill our water carriers, and then went looking for shops. Near the front there were excellent specialist shops, but we had to walk quite a way to find a supermarket selling milk. Actually, fresh milk was new pleasure - further West they only sold UHT. Ann plucked up courage to enter the ultra posh yacht club. She was challenged, but allowed in as a visiting yachtsman, shown to the visitors' loos, and directed to the meteo board. This, indeed, had a local forecast, but last Sunday's!