San Sebastian to St Jean de Luz - Thursday 31 July 2003, 20 miles
Set sail at 13:30, with the wind just East of North, F3, passing through yachts gilling around for a race start at the entrance. There must have been 30 yachts, which puzzled us, as there can't have been more than a dozen moored in the bay. Maybe they'd sailed in specially that morning.
As we tacked slowly along the coast, we found we were being chased by the race. Much effete fumbling with the sails to try to keep ahead!
Entrance to Pasajes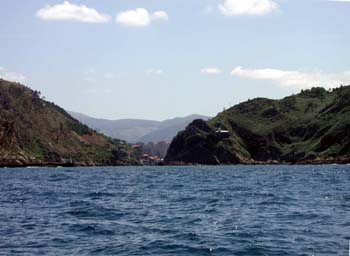 At 14:00, we came abreast of Pasajes. This is the principle commercial harbour of North Spain, but almost invisible until you are exactly abreast of the fissure in the cliffs that leads into it. As we passed, we could see glimpses of a big, industrial town inside.
As we came up to Cabo Higuer, the last in Spain, the lead yacht, a J something, just caught us, but then bore away, hoisting its spin, making for Hondarribia. We also bore away, but only a tad, heading for St Jean de Luz, a few miles up the coast, at 7 knots
Swapped courtesy flags.
In St Jean, we turned to starboard, looking for an anchorage, but found the best spaces already had visitors buoys, so picked one up, for a more acceptable fee of €5. We first went ashore in Socoa, which had very adequate basic shops, then made the long haul to St Jean itself. Nice to be somewhere where we spoke the language!
Socoa fort


St Jean is a pleasant tourist town, with a highly organised beach, dozens of restaurants, picture galleries and fashion shops. I guess it must be a bit dead in winter.
Back on the boat, we noticed a strange sizzling sound, more pronounced in the hulls than on deck, and strongest when swimming under water. It continued all night
In the morning we went to St Jean again to find a post office, and also found a brilliant market.