Ribadeo to Viavelez - Monday, 14 July 2003, 11 miles
On the Monday, Mark and Luke left for the bus station, while Ann and I toured the town for provisions. We needed water (Razzmatazz's main tank is only 100 litres), so we began a search for a source. This was to become something of a ritual in most ports. The skipper of the (English) yacht ahead of us said he had ordered a tanker for the afternoon, but we didn't want to wait till then. Luckily, just after we'd paid in the port office, we noticed that the local sailing school yacht had left its pontoon berth for the day, so we slipped in and used a tap on the pontoon.
We set sail, heading East, around lunchtime. One nice feature of this coast is the lack of tidal currents, so you can time your daily cruise around important events like meals and shopping. The weather was overcast, wind North East F1. We clearly weren't going to get to Luarca - the next significant port.
At 1700, we realised we completely drained the battery by leaving the coolbox on when there was no sun to drive the solar panel. So we started the engine, and decided to make for the closest harbour, which was Viavelez.
Entrance to Viavalez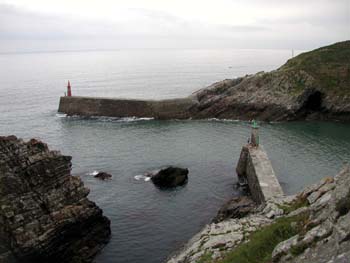 Viavelez is basically a cleft in the cliff, guarded by 2 breakwaters through which you zig-zag to enter. Inside, we saw 2 fishing boats moored side-by-side, and then a perfect space, specially left for us, with adequate swinging room. Better still, when we'd circled it, we found plenty of depth. However, the guy painting one of the fishing boats gesticulated forcefully that we shouldn't anchor there, but between him and the entrance. We did as we were told, and were not at all happy that we'd stay clear of the cliff. Ten minutes later, a dredger entered the harbour and started work where we'd wanted to anchor! So, we asked the fisherman, in our best sign language, whether we could take a stern line to his mooring, and he seemed ok with that.
By the way, the fishing boats were immaculate, in exhibition trim, and this seems to be the norm in Spain (in radical contrast to France).
Razzmatazz anchored in Viavelez (the dredger is the boat with the blue hull)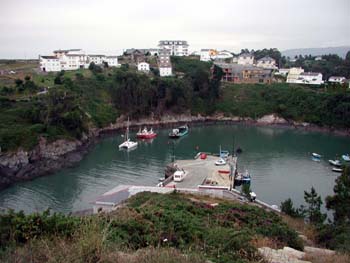 Ashore, we found Viavelez a delightful small village, with no shops, but a restaurant at the head of the creek way too expensive for our budget.
We awoke in the small hours to find our stern line adrift, so we made fast to another buoy. In the morning, that was adrift as well. Investigation at low tide and daylight displayed the system: there was a fixed line running from the breakwater to the cliff-face inland; the fishing boats simply picked this up fore and aft. We'd looped round their attachment lines rather than the fixed line. Anyway, no harm done.