Luanco to Lastres - Thursday, 17 July 2003, 37 miles
Next morning, we actually got a local inshore forecast on VHF (Luanco is very close to Gijon, which has a transmitter). After buying bread and eggs in a tiny shop near the landing place, we set out to enjoy the forecast F3 South Westerly. The reality was a F1 which soon disappeared, so we motored into Candas in scorching heat, for a swim and lunch. Candas, like around half the ports we visited, had massive work in progress, funded by the EU. In this case, they'd drained the inner harbour and were obviously refurbishing it, but whether for fishing boats or yachts, we couldn't tell. The town was a delightful warren of tiny streets, well worth a longer stay.
However, the breeze picked up to give an Easterly F4 with brilliant sunshine, so we upped anchor to enjoy a 35 mile beat dead to windward with Razzmatazz doing around 7 knots all the way. Our technique for beating is to take a hull each: the person in the windward hull steers; when it's time to tack, he/she puts the helm down and moves to the jib winch to wind in; the other person frees the jib sheet and grabs the tiller on his/her side to become the helmsman.
Lastres village from the harbour


At 19:30, we reached Lastres, a village clinging to the steep hillside, and overlooking quite a spacious harbour offering excellent shelter from all but the South, where the fetch was only a mile or so anyway. Finding space against a wall was tricky, as the local small boats were moored everywhere close to, but not actually tied to the wall. We tied up temporarily by the fish dock and made a reconnaissance on foot, and found a place with inches to spare, but no ladder. So, Ann took ropes ashore, and passed them to me when I came alongside, and we then used the dinghy for getting ashore.
Lastres, looking down from the television mast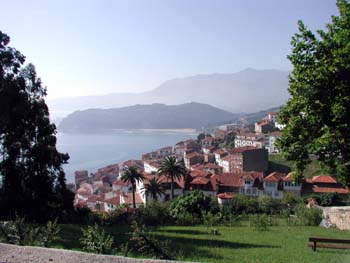 Next morning, we explored the village and hillside above. The hilltop had a television aerial, positioned with fantastic views over the harbour below and mountains inland. We walked along the cliffs to a derelict small castle, passing a superbly positioned small farmhouse with a "for sale" sign. Tempting, but... On the way down we found the basic shops, and bought our excellent bread in a serious large scale bakery in a factory-style building.