Lequeitio to San Sebastian - Wednesday, 30 July 2003, 24 miles
At 12:30, we dropped the anchor ball, raised one anchor, hoisted the main, and then raised the second anchor. All this at approaching low water with swimmers all around!
We used the anchor ball in Spain, despite the fact that we suspected no one had a clue what it meant, as we tended to be the only boat at anchor, and it seemed a harmless if somewhat useless precaution. We also set a riding light at night if we were anywhere near a fairway.
Wind was initially North West, F3, and gave us a good speed with Mr Lion. However, by 13:30 the wind had gone, and I had a swim and scraped the weed off the rudders. The wind then filled in North East, F2, so we made way again.
We decided to change our courtesy flag arrangement. In Loqueitio, we had been flying the only Spanish flag to be seen. While no one had complained, maybe because our Basque flag, purely by chance, was much bigger, we thought we were risking offence. So we struck the Spanish flag, and left the Basque flag on its own. It would be interesting to see what the Real Club Náutico did in San Sebastian.
At 18:00, we entered the bay of San Sebastian. We circled around, looking for a good place to anchor, but there were moorings everywhere. Eventually, we accepted an offer of a visiting mooring from the yacht club launch, thinking that no one could charge much for a buoy almost out in the Atlantic.
Inner harbour and yacht club, San Sebastian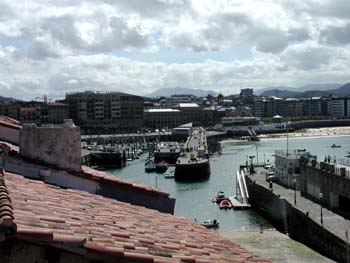 We launched the dinghy, and headed for the Real Club Club Náutico, but the steps didn't look as though they were for use, and there was quite a bit of swell, so we went into the inner harbour. At the club, we found our dues were €18, but included a shower. While Ann went for hers, I asked for a beer at the bar. Clearly, centuries of training had gone into enabling the waiter to make me feel like a piece of flotsam while he poured me half a glass of over-priced beer. I sat tentatively on the terrace, among groups of mainly elderly ladies dressed in full armour, with battle paint and many layers of jewelry. As soon as Ann had finished, we fled into our proper element, the streets!
And their solution to the ensign problem was not to fly one! Their launches flew a club flag at the stern.
The town was quite lively, but lacking in charm, to our way of thinking.
The anchorage at San Sebastian, seen from the aquarium


Next morning, we found it was a feast day, with most of the shops shut. However, we visited the aquarium, and looked at the sharks and rays from underneath, from the tunnel, and bought presents for the grandchildren.