Llanes to San Vincente de la Barquera - Monday, 21 July 2003, 16 miles
Set sail after a late lunch in a South Westerly F2 -3. The rain had stopped, and the sky partly cleared, with visibility of around 10 miles, so we had a nice reach past some beautiful scenery. We sailed past Ria de Tina Major and Ria de Tina Minor, two clefts in the cliffs opening into wide lagoons. Their isolation is a little spoilt by the, admittedly magnificently engineered, motorway viaducts on their inland sides.
San Vincente from the anchorage


At 19:00, we entered the ria of San Vincente de la Barquera. This is a rather lovely estuary, with a broad lake with bags of space to anchor. Around the edges are the town of San Vincente de la Barquera itself, two long low bridges crossing the inlets from two rivers, one apparently medieval, and some slightly unfortunate modern apartment blocks, all with mountains as a backdrop.
In the evening we were entertained by a pop group on the shore which set world class standards for tunelessness and amplification power. Amazingly, at eleven o'clock the church bells struck, and the pop group stopped. The church bells were a bit special too. The original metal bells had been locked stationary, and their function replaced by loudspeakers in the bell towers. The effect was rather spoiled by the distortion from having the amplifier turned up above its designed rating, and then having the recording terminate a millisecond or so into the reverberation.
A lane leading to the citadel in the old town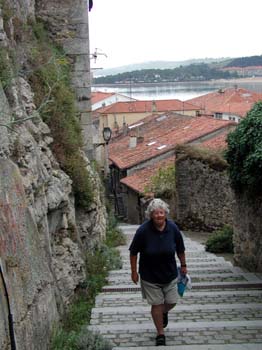 Next morning we explored the town properly. Above pleasant nineteenth century buildings in the commercial area, lanes and steps lead up to the historic citadel, with a castle, school of navigation and very fine church.
The grounds of the church had massive walls, set at the edge of the steep, wooded slopes falling down to the river on one side and town on the other. As we gazed at the view, someone let off a volley of maroons on the hillside opposite. Goodness knows why - we thought the Spanish just liked maroons.
Barrage protecting the old bridge at San Vincente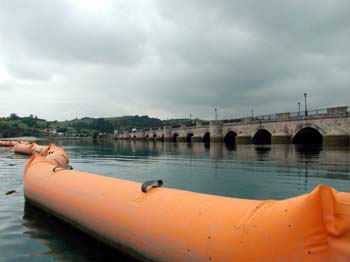 On the dinghy ride back to Razzmatazz, we went to inspect the older bridge. It, or rather the river above it, was protected from "Prestige" oil by a flexible, plastic tube. We'd noticed these from afar in other rias. The Spanish appear to have done a superb job in clearing up. The only problems we had were once, when we trailed washing to rinse it on a rope astern, when it picked up some tar, and from ladders in small harbours, which typically had tar on them.