Lastres to Ribadesella - Friday, 18 July 2003, 11 miles
Left Lastres at lunchtime with a Northerly F2 and sunshine. Sailing so gently, and the weather so warm, that I jumped over the side from time to time and grabbed a rope hanging over the stern to pull myself back. Have still to persuade Ann to join me!
We actually needed a waypoint offshore at Punta Sierra to avoid outliers - maybe the only such place in North Spain. After the waypoint, we came off the wind and were able to fly Mr Andrews until around 2 miles from Ribadesella, when we were becalmed and had to motor in.
In many ways this was a typical day weatherwise, after we'd left the grey of the first few days. The onshore wind would settle in around lunchtime, perhaps reach F4 by teatime, and disappear in the evening. If you want to sail rather than motor, you have to accept that some days you can only do 10 miles, although there are others where you may manage 40. This, of course, is in a boat that sails well in light airs. Most of the few other yachts we saw sported "Westerly number 1 rig", ie mainsail sheeted hard in and the engine doing the work of taking them the 60 or so miles their schedule demanded. In our opinion, the way to enjoy North Spain is to take it very gently, with no schedule to maintain, and to do it in a boat that sails adequately in F1 or F2.
Ribadesella from the cliff top above the entrance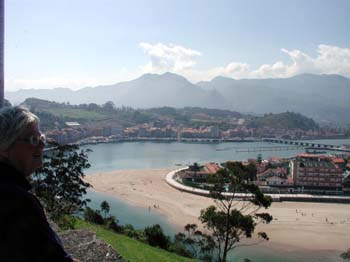 Ribadesella itself is completely hidden from the sea. You approach an obviously fashionable beach in a bay, with elegant hotels backing it, until you see the ria leading away to port behind the cliff. The ria then leads round a sweeping bend to turn inland, with the town of Ribedesella to port, and a long, low bridge, flying the flag of every nation except the UK, blocking further progress. The quay of the town is marked to allocate space to fishing boats and "deportiva", meaning sports boats. In the deportiva section, most of the space was taken by local amateur fishing boats, but there were 2 slots where a 10 metre yacht could squeeze in. One was already taken, and we took the second. Actually, if you have a suitable plank on board, there is quite a long stretch with pilings but no wall, where you can have all the space you want, and a ladder to yourself.
The quayside at Ribadesella


The town of Ribadesella is mainly twentieth century, and not very distinguished. But it's full of life, and the setting is superb, with mountains inland, the ria in the foreground, and the cliff protecting the town from the sea on the North, with its chapel and flower-covered small houses. Also, Ribadesella is one of the few - maybe the only - place where you can still visit a cave with primitive cave paintings. They restrict numbers, so you have to book ahead - around a fortnight in July. When we next visit, this is something we'll certainly do.
We invited the couple from the next yacht for drinks. Like several cruising couples we met, they were of mixed nationality, he German and she French. They spoke English together, but when she discovered I spoke French, that had to be our language for the evening! They were heading West, so we exchanged recommendations on where to visit.
Next day was hot and sunny, with little wind, so we decided to spend it exploring around the town, and then a cycle ride inland on our folding bikes. The tourist office gave us quite a large-scale map, but without contours. We found that the gentle circuit I'd chosen, of around 12Km, also climbed 300 metres, and we got totally exhausted in the heat, not having taken anything to drink. Around 2pm, we came to a village called Carmen, and stopped off at a bar with tables set out under the trees, and had our best meal in Spain, of Sea Bass and salad, washed down with cider. The guy running the bar was jet black, and spoke pretty good English. Maybe he was descended from the Moors, although I don't think they settled the extreme North of Spain.