Ile de Yeu to le Croisic - Monday, 18 August 2003, 44 miles
We'd explored the Ile de Yeu the previous year, so, despite thinking it possibly the nicest of the French Atlantic islands, we decided to press on with a favourable forecast.
Set sail at 08:45, rounded the South-East corner of Yeu, and sailed North gradually pulling away from the East coast. We could see plenty of nice places to anchor in a Westerly wind, and that might have been a better choice.
The North Westerly F2/3 gradually increased to a steady F3, with sunshine, allowing us to make a comfortable 7 knots with the jib sheeted to a block on a stanchion. For the first time since San Sebastian, there were lots of other yachts around. We considered continuing to Hoëdic, but decided against as the sky was clouding over, and there was no guarantee the wind would hold.
So we turned right at the Basse Castouillet buoy, off the Pointe du Croisic, and headed for le Croisic, now pulled by Mr Lion. Time for the Brittany flag.
Le Pool in le Croisic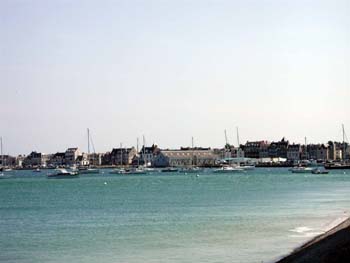 At 14:00, we entered the channel into le Croisic under motor, as it was dead to windward, and picked up a mooring in "le Pool" just astern of a tri called "Three legs of Mann". Wasn't that a famous trans-Atlantic racer many years' ago?
To save having to move later, I tried calling le Capitainerie on channel 9. He answered - first time in my experience of French yacht harbours - and, after checking his records, confirmed that we were fine were we were. When we later called to pay the very modest mooring fee, he expressed astonishment that a foreigner would call him on VHF. Gave me a warm glow!
Le Croisic is one of our favourite places. It is a bustling holiday town, with lots of restaurants and boutiques. Behind the front, there are unspoilt old streets. We bought shellfish for dinner, and found there was a concert later that evening in the church. Apart from the music, the church has fine windows and votive boats.