Hoëdic to Sauzon, Belle Ile - Wednesday, 20 August 2003, 16 miles
The next new port we wanted to visit was Etel. But we wouldn't be able to get there by HW at 10:30, so we needed an intermediate stop. Perfect excuse to revisit Sauzon, which we reckon the prettiest port we've ever visited in any country.
Set sail at 10:00 with a light Easterly allowing us to follow the chain of islands North Easterly to Houat, where we edged close inshore to look at the moorings and Port Navalo. Then tacked through le Passage de Beniget at the North West End of Houat. There was a cosy-looking anchorage tucked in among the rocks on the Houat side - maybe next time.
Tall ship off le Palais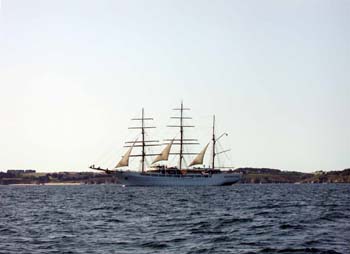 We set Mr Lion to take us North West to Sauzon, but noticed a strange tall ship off le Palais, so gybed to get closer to it. As we approached, it upped anchor and motored slowly South. It looked like a modern cruise ship, but with sails set on high-tech spars, including what looked like in-yard reefing. Its ensign had a single fleur-de-lys.
We gybed again, and reached quickly up to Sauzon. Sauzon offers a choice of swinging buoys outside in deep water, fore-and-aft shared buoys in the outer harbour, afloat at all tides, and for-and-aft buoys, a pair for each boat, in the drying inner harbour. There was still enough water for us to enter the inner harbour, so we did, and picked up 4 mooring buoys, one for each corner, as instructed, at 13:30.
Inner harbour, Sauzon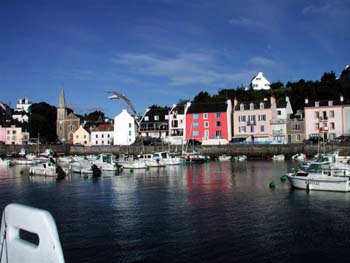 The inner harbour has the village on one side of the creek, and a wooded hillside on the other. The houses in the village are painted variously in shades of pink and blue, and there are woods behind. The overall effect is stunning.
After lunch (a dozen oysters each, followed by brie, washed down by Muscadet) we decided we wanted to see Ster Wenn, a famous anchorage in a cleft in the cliffs, from the land, so we landed in the village and set out to walk the 5 or 6 miles along the cliff path. As we headed, initially, North, we had extraordinary visibility, so that the Ile De Groix, 15 miles away was completely clear, as was Port Maria on the end of the presqu'Ile de Quiberon. The path to the Pointe des Poulains alternately climbed up the cliffs and plunged down to creeks, each with a few small boats moored, so we had plenty of exercise.
Ster Wenn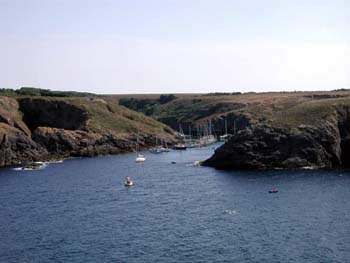 After we rounded the corner and headed West along the North coast, the path stayed on the cliff top until we came out above Ster Vraz, and Ster Wenn, a subsidiary fissure in the cliff leading off it. There were perhaps a dozen boats, lying to an anchor forward and warp to a ring on the cliff aft. We could see why people would want to go there, but it didn't appeal to us - very shaded from the sun for one thing.
We then walked inland, thinking we might catch a bus back, but the road had little traffic, so we kept walking until we reached Sauzon.