Bilboa to Bernio - Friday, 25 July 2003, 25 miles
Set sail at 17:00 into a North Westerly F3 - dead on the nose out of the harbour. Not sure at first whether to cross the submerged Dique de Punta Galea, but after observing local boats with proper keels doing so, we followed suit. Least depth was 11m. As we rounded Cabo Villano, the wind came astern, and despite flying Mr Andrews, we dropped to a couple of knots.
At 21:00, we gave up and motored into the bay. At first, we thought we might get into Mundaca, a reportedly beautiful tiny harbour. However, there were breakers on the bar, albeit little ones, and we didn't fancy playing games in the approaching dark. So we motored back a couple of miles to the working fishing harbour of Bernio, and anchored in the antepuerto at 22:00.
Bernio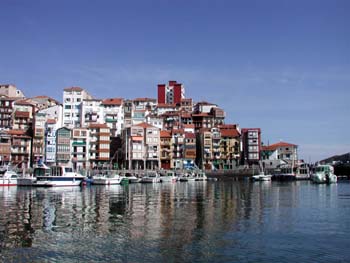 Next morning we woke to find ourselves between some moorings for private boats - mainly runabouts - and the main fairway to and from the inner harbour. On the other side of the fairway was a commercial quay with a coaster alongside. However, it was quite peaceful, as most of the numerous boats heading out for a day's fishing kept to a moderate speed - in fact most of them were traditional craft with inboard diesels and a top speed of maybe 6 knots.
We searched for water without success, then took the dinghy into the inner harbour to shop and explore the town. The town was completely devoid of any tourist or holidaymaker appeal, and quite delightful, with tiny streets climbing seemingly at random from the harbour up the hill, leading to shady squares with old houses and churches. The shopping was good, too.