Bernio to Ria de Mundaca - Saturday, 26 July 2003, 2 miles
Just before half-tide, around midday, we motored out to cross the bar into the Ria de Mundaca. The bar is part of a famous surfing beach, so worthy of respect. However, with no swell and little wind we crossed without adventure. Immediately to starboard was Mundaca harbour, but the entrance looked narrow for Razzmatazz, and we doubted there'd be room inside, so we carried on up the ria for a mile.
Ria de Mundaca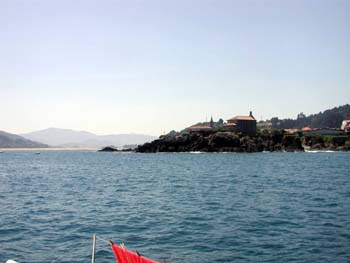 In sunshine, and a now increasing sea breeze, the ria was very beautiful. Inland, it stretched for maybe 10 miles up a broad valley, with high mountains in the distance beyond. On either side were steep hills of perhaps 200m, with a few elegant villas on the sides. To seaward, most of the entrance was blocked by a sandy spit that was playground to numerous holidaymakers.
We lazed and swam until the tide was a ebbing, when we decided to find a mooring nearer the town. This we did, and anchored with enough water to leave us just afloat at low water. As we were maneuvering, we found a pool with at least 6m, where a keelboat could have safely anchored.
Mundaca harbour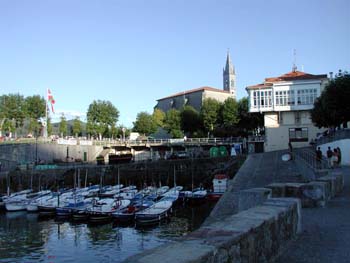 After supper, at low water, we took the dinghy to the inland side of Mundaca, where there was a drying sandy creek roped off to make a nursery swimming area. We landed, and explored the tiny town. The harbour had a couple of dozen traditional local boats, and certainly no room for us. Along one side was the town square, with a jumble of bars, a museum, a church and the tourist office around it. Further up the hill was railway station, where you could catch the train from Bilboa to Guernica. Altogether, it was the perfect complement to Bernio, with tourist facilities that Bernio lacked.
Next morning it was raining at first, so we decided to do some jobs. My first job was involuntary - the engine wouldn't start, and I spent a happy hour trying to dismantle it without the manual, before I eventually cleared the fuel blockage by putting my hand over the air intake. I also had to replace a thrust washer in the Autohelm that had been made to stay put with no more than a friction fit in a sleeve. I screwed some self tappers in from the side, and then covered the area in a GRP paste. (It held for the rest of the cruise, anyway.)