Arcachon to la Belle Anse - Thursday and Friday, 7 and 8 August 2003, 48 miles
Set sail at midday, with the tide still flooding, into a Westerly headwind of F3. Very slow progress, until at 14:00 we were off the Dune du Pilat. This is the largest sand dune in Europe, and 150m high. Lines of people were toiling up in the scorching sun, and we considered anchoring off and joining them. However, much as we like exercise...
Dune du Pilat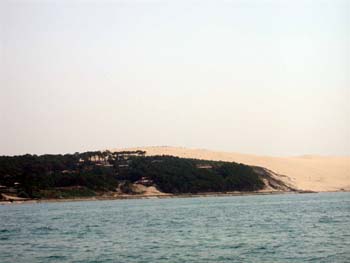 At the entrance, dozens of boats had landed on the banc du Toulinguet. Clearly, this fearsome entrance is treated with suitable levity by the locals in nice weather.
For the most part, this was a passage of beating into a Northerly F2. However, it was enlivened by a fantastic thunderstorm over central France from around midnight until 03:00. Fortunately, it was so far away we couldn't hear it, so was unlikely to cause us any grief. However, for 20 minutes we had a Southerly F6, which came from nowhere and had Razzmatazz zooming off at 12 knots towards a nearby fishing boat until we regained control.
At 08:00, we were doing a nice 7 to 8 knots heading for Corduoan, the isolated lighthouse on a rock in the mouth of the Gironde. Now we had to select an anchorage. As we were on a rising tide, we thought we'd try la Bonne Anse, and accordingly we headed for the big dolphin off la Palmyre. La Bonne Anse itself had a well buoyed entry passage, and we shot in on a 5 knot current into the broad lagoon of la Bonne Anse.
Entrance to La Bonne Anse looking out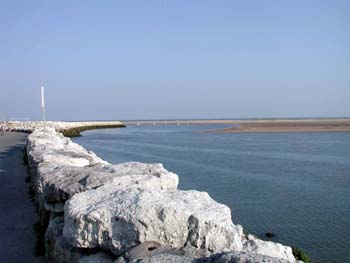 There is a small, rather attractive marina at Palmyre, leading off la Bonne Anse. However, it only offers to accommodate small yachts, with no mention of cats, and Bonne Anse itself is a beautiful expanse of water, bordered on 3 sides by dunes, and the fourth by a pine-clad shore and Palmyre harbour. So we anchored in 2m near another cat, whose crew assured us the bottom was flat and soft.