Introduction

Many English yachts visit and enjoy the Rias Baixas, in Galicia, in the NW corner of Spain. But few seem to call in to the Rio Mi˝o, which forms part of the frontier between Spain and Portugal, and lies only some 15 miles South of Baiona.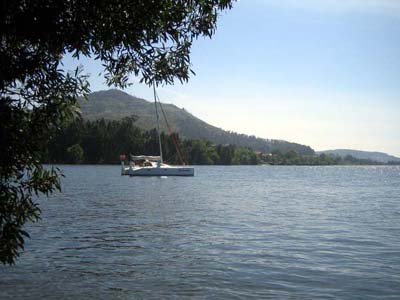 Anchored off Illa Bohega

There are some good reasons for not visiting it. In particular: the entrance is a bit scary, and needs to be made in good weather at the right state of the tide; the river is shallow, especially in its lower reaches, with sandbanks that dry at low water, and cannot usefully be charted as they change so frequently; and there are bridges restricting headroom to between 15 and 25 metres, depending on how far you want to go. But, for a yacht, such as our Dazcat 9.2m catamaran, with a shortish mast and no concern for gentle grounding on sandbanks, the river provides an idyllic interlude from cruising the high seas.

The highlights are the ancient towns of Tui in Spain and Valenša in Portugal, the mountains of Santa Tecla and Aloia in Spain and Faro in Portugal, and the quiet anchorages behind wooded islands.