The delights
| | |
| --- | --- |
| | |
| Caminha anchorage from Monte Tecla | Caminha square |
To compensate for the dangers, there are many delights. Just inside the entrance, on the Portuguese side, lies Caminha. This little town doesn´t even warrant a mention in our tourist guide book, yet we found it charming. In contrast to similar Spanish small towns, the centre is almost entirely original, and the new building is all good, and some highly distinguished. The architecture is very distinct from that of Galicia, North of the river, with the churches in particular being more elegant, and free from the heavy "gold leaf on everything" Spanish style. Caminha has a secure and pretty anchorage about a mile from the town, with a pontoon which the local marinero invited us to use for our dinghy, and quite a decent restaurant. There is a ferry from Caminha to the Spanish side, and we used this on our bicycle ride to Monte Tecla. As a bonus, there are two newsagents in the town square selling up-to-date English papers!

About 5 miles upstream from Caminha, we anchored in the shelter of Illa Bohega. This island of woods and pasture is about a mile long, and is used for grazing cattle. We were told that the farmhouse serves luxury meals by prior arrangement. On either side of the river are small villages, and we managed to buy bread in a nearby shop on the Portuguese side.
Tui from our anchorage

Our next stop was opposite Tui, after negotiating all the bridges. You can probably anchor anywhere, but we chose a spot half a mile upstream on the Portuguese side, with the ancient cathedral of Tui to our West, and Monte Aloia to our North. From the river, the old town of Tui below the cathedral appears completely unspoiled. There is a small marina on the river bank, where we later left our boat for a few days, very affordably, to explore further inland.




| | |
| --- | --- |
| | |
| Tui main street | Tui cathedral cloisters |
Tui offers steep granite-paved streets to explore in its old town, with bars and restaurants tucked into corners; an ancient fortified cathedral, with wonderful views from its tower; an almost traffic-free street along the top of the hill, with pavement cafes where you can while away an hour or two watching people come and go; and a slightly newer town on the inland side, with all the shops you are likely to need.
| | |
| --- | --- |
| | |
| Tiled houses in Valença | Tui from the battlements of Valança |
Opposite Tui, on the Portuguese side, lies Valença. You cross the river on a double-decker iron bridge, designed by Eiffel (of tower fame). Old Valença is a fortified town, with pretty well all original buildings lying inside fortifications designed by, or anyway on the lines of, Vauban. So, the town is star-shaped, with the turreted corners sticking out to allow good firepower against anyone trying to scale the walls. Most of the buildings house shops selling textiles, which used to be much cheaper in Portugal than Spain, but they must be struggling to make a living now.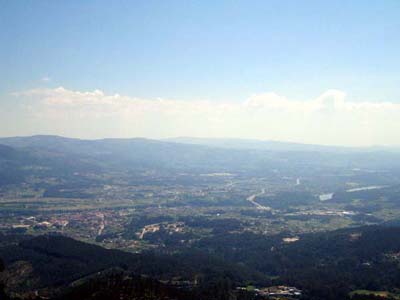 Looking down on to Tui from Monte Aiona

For rural pleasures, Monte Aloia lies about 10 Km North of Tui, with a road almost to the top. We cycled up, on a public holiday weekend, and had little trouble with the sparse traffic, although the height of 489m left us puffing! The top is organised as a picnic site, with granite tables and benches, and barbeques. Although most had Spanish family parties, it didn't feel at all crowded, partly because Spanish family parties are so civilised that it is a pleasure to be among them. The summit itself has a cruciero and a TV mast, paying homage to past and present gods, and stunning views into Portugal to the Parque Nationale Peneda-Gerês.

There are nice paths for walking as well, but walkers may prefer to take a taxi for the 4 Km or so needed to get out of Tui.

On the other side, Monte Faro also has a small road and footpaths to its 568m summit, and offers equal views and healthy exercise. And it has a restaurant!

We wouldn't have wanted to miss the Rio Miño. If you have a suitable boat, be sure to visit. Even with a deep keel and tall mast, you can have part of the pleasure by anchoring at Caminha and climbing Monte Tecla.