Overview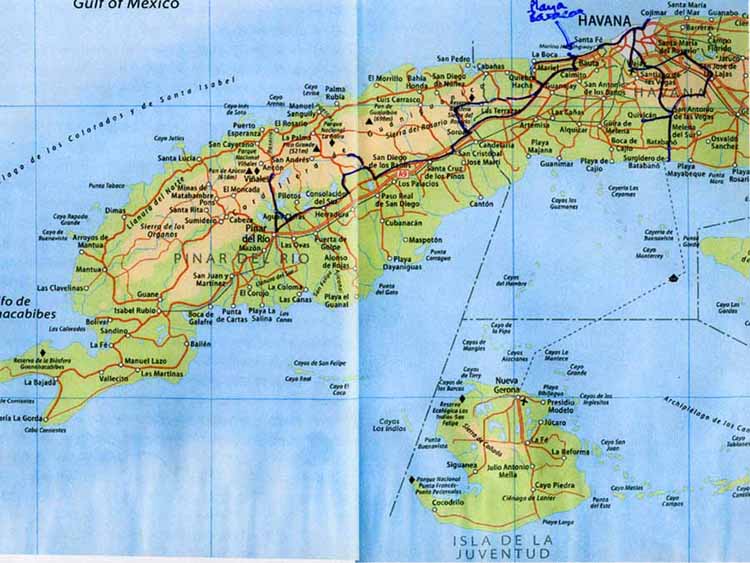 Our route



I had air miles with Virgin Atlantic, left from before I retired, and they were about to expire, so had to be used this winter. The choice was Delhi, Shanghai, the Bahamas, Tokyo, Cape Town, Hong Kong, and, an addition this year, Havana. We've been trying to learn Spanish, and we'd came across a Lonely Planet guide "Cycling Cuba", which offered empty roads and a beautiful country, so we plumped for Cuba. We hoped to practice our Spanish, get to know some Cubans, pedal away some fat and renew our sun-tans.
| | |
| --- | --- |
| | |
| Havana at its best | Typical Havana |
In outline (see map): we spent a couple of days exploring Havana and nearby Cojimar, where Hemingway used to hang out; then cycled to Surgidero de Batabano on the South coast, intending to take the ferry to the Isla de Juventad; but the gatekeeper insisted the bikes should go on a separate, slow ferry while we took the hydrofoil, so we cycled straight back to Havana.


| | |
| --- | --- |
| | |
| Playa Baracoa | Las Terrazas |
We then decided to spend the rest of our trip doing a slow tour of the hilly west: Playa Baracoa, where hippies sunbathed amoungst the beer cans and used condoms on the beach; las Terrazas, where we stayed in Cabanas on stilts by an idyllic rock pool on the river with steep, forested hills all around;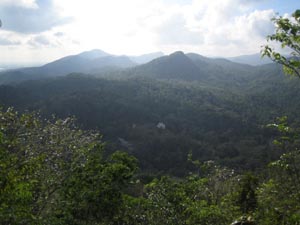 Above Soroa

to Soroa on near vertical roads that left us nearly exhausted, except that, after a shower, we hiked up to the Castillo de Nubes (actually a crumbling, defunct restaurant on the hill-top); to San Diego, where we spent 2 nights so that we could cycle in the beautiful park up more vertical hills, but this time without our paniers, to visit Che's cave; to Pinar to see cigars being made (Ann's family business); and finally Vinales, a resort village surrounded by Mogates (mini-mountains of limestone, remnisent of Thailand or Vietnam).