Lefkas and islands to the East - 30 April to 20 May
Next morning, we got the bike wheel at last! Quickly provisioned and watered from the tap on lawn on Preveza Town Quay, and away towards Lefkas, where we'd never stopped before. Tacked out of the Preveza Channel, then could just lay the entrance to the Lefkas canal, to arrive in time for the 13:00 opening.
We wanted to be on the town quay for easy access to chandlers, and there was a space exactly right for our 6m beam. Our neighbours hid their nervousness very well, and congratulated us on fitting so precisely. Later, one of them left and was quickly replaced by a French boat with a broken passerelle. I invited them to use ours while they got theirs fixed, which they did despite the fact that ours is simply an aluminium ladder lashed to the forward beam. When they left Madame rewarded us with a pot of her delicious home-made strawberry jam. Vive l'Entente Cordiale!
| | |
| --- | --- |
| | |
| North end of the Lefkas Canal | Lefkas from above |
I then spent 4 days and about 80 euros fixing the mounting for the winch. First I used the angle grinder to remove the fibreglass layer immediately under the winch and clutches, to disclose what turned out to be 5 litres of wood pulp. The Greek-owned chandler at the west end of the quay proved especially helpful, and recommended mixing polyester with talcum powder to make the most economical filler. So I filled up the space with layers of this putty and glass mat. Of course, the layers had to be reasonably thin to avoid explosive setting, and I had to wait for each lot to set. And meanwhile, it was getting pretty hot. The canal water by the quay didn't look inviting for swimming, so we cycled along the canal to the north coast and swam off its pebbly beach. And, to get some exercise, we cycled round the lagoon north of the town, and up to the village of Kalavros, which was a lot of effort for a nondescript village with a rather nice cafe.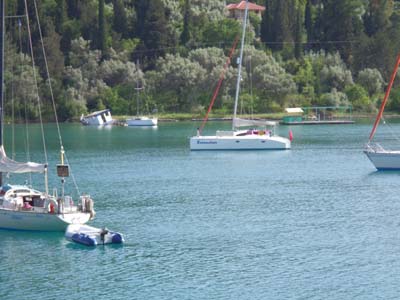 Tranquil Bay
Finally, the job was done, if not very pretty, but I wanted a 24 hour wait before sanding and applying a load. So we sauntered under jib alone to Tranquil Bay, where there was plenty of space to anchor in a reasonable depth. Later another CA yacht, Seafever, anchored close by, and we paddled across to introduce ourselves and spent a convivial couple of hours with them.
Next day, I sanded the winch mount and used filler to smoothe out some troughs, then remounted the winch. Testing can wait for tomorrow!
| | |
| --- | --- |
| | |
| Moored near Lazy Pelican | John & Maggie |
We arranged to meet our CA friends Maggie and John on Lazy Pelican in Port Leone on Kalamos. We'd first met them in Pollensa, then again in Sardinia. As we continue to voyage in the relatively small area of the Mediterranean, we find that we have the pleasure of meeting old friends more and more. Anyway, we set out in almost no wind, so that we had to motor for a couple of miles. When we hoisted the main, the winch appeared rock solid - so far, so good! By teatime, we had to take in a reef as we tacked up the channel to Ak Kefali, the southern corner of Kalamos. But then the wind dropped, and we had to motor the last 4 miles to Port Leone. John rowed out to take our shore line onto the beach, and we lay back comfortably, ready for a BBQ on Lazy Pelican.
| | |
| --- | --- |
| | |
| Fiskardo | Moored where the pontoon should be |
Next morning, after exploring the village with John and Maggie, we thought we'd head for Fiskardo. However, as we approached the north end of Ithaka beating into a stiff north-westerly, we saw clouds pouring over the summit of Ithaka, and thought this might indicate bad weather on the other side. In fact, I now think it doesn't, but in any case we bore away for Vathi, where the anchorage was choppy until late in the evening. Next day, a gentle south-easterly took us to Ak Melissa on the north of Ithaka, then a north-westerly gave a close reach to Fiskado. This early in the season, we had a choice of moorings, and managed to go alongside the mole that used to form the base for the pontoon off the west quay. Excellent dinner at Elli's
We decided on a cycling day, and pedalled up the steep hill to Manganos, with views out to the west over Kolpos Mirtou, then took a tiny road leading east down to the coast overlooking Ithaka. The road deteriorated into a steep stony track, too dangerous for cycling, until we had to untie a barrier (fastened with a bow!) to reach civilisation again. In the afternoon, a squall caused the American boat tied back to the quay near us to drag its big Rocna anchor and lean on us. Eventually they gave up trying to reset the anchor and moved elsewhere.
| | |
| --- | --- |
| | |
| Alongside between the (departed) ferry & a fishing boat | Track leading north from Kastos village |
From Fiskardo, we sailed to Kastos, and arrived in a south-westerly 4 to 5 with a threatening sky. As we looked for the best mooring, someone beckoned us to tie alongside between a fishing boat and the ferry on the south quay. No sooner done than a thunderstorm gusting lots from the east made us very thankful we hadn't anchored off the beach.
Kastos offered some nice walks in the village. Then we tried cycling along the road to the north of the island. However, the road was more of a gravel track. And the map, which didn't show any fierce gradients, failed to tell us that the track was a switchback. Ann rebelled, and decided to walk back before we reached the end, and I gave up shortly after. But it would have been a lovely walk!
| | |
| --- | --- |
| | |
| Aberlike Bay | Lunch in Spartakhori |
From Kastos we set out for Little Vathi on Meganisi, going northabout Kalamos. Fluky winds, but we managed to keep sailing until a gentle wind took us to the NE corner of Meganisi, where we decided to enter Abelike Bay, rather than struggle on to Vathi with no certainty of finding space. We anchored bows to in the NW corner of the bay, with lines to the trees. The German crew of the next boat told us about the path over the ridge to Vathi. Next morning, with strong south winds forecast, we turned the boat round so that the bows were more-or-less into the wind, and then did jobs. In fact the bay is wonderfully sheltered, and we saw no more than force 4.
The following day we cycled over the ridge to Vathi and along the coast to Spartakhori Bay, then up the ferocious hill to the village. We found a lovely little bar to enjoy a Greek salad surrounded by locals tippling their ouzo. Then back along the top of the island, but we had to drop down to Vathi to buy our dinner. There was bags of space in Vathi and Spartakhori, but we thought Aberlike Bay was the best mooring to be had on Meganisi.
| | |
| --- | --- |
| | |
| Stavros church | Stavros church interior |
| | |
| Looking towards Kefalonia | Gods in flagrante |
Next day we headed south about Meganisi, seeing where the wind would take us. In the event, Frikes seemed a good destination, and we tied up alongside a Dutch boat on the east quay at lunchtime, and then moved onto the quay itself when another boat moved on. Next morning we decided to cycle inland, and were rewarded by the lovely village of Stavros, with its views over to Kefalonia, pharmacy, ATM and simple church, and then roads to the north of island with views over Levkas, and an eccentric open museum with statues of gods and an ancient Singer sewing machine.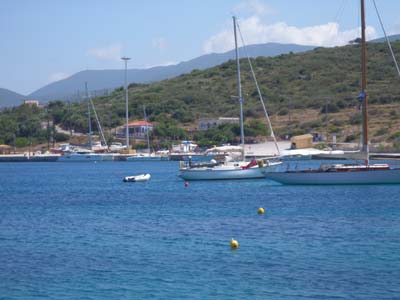 St Nick on Zakinthos
Now we had to get to Zakinthos to meet my brother. It took us three days of fickle winds to reach Poros, with overnight stops in Vathi and Sami. We then had a brilliant sail, hard on the west wind, to Ay Nikolaos on Zakinthos.