Some of the people we met
The main problem was communication. Keralans speak Malayalam, a language having different sounds, different script, and absolutely nothing in common with any European language. So, it would take many months of hard work to be able to hold a conversation. Their second language is Hindi, and English third. We found people who dealt with tourists could speak enough for buying and selling, but seldom enough for a conversation about life and the universe. In the countryside, we used sign language. Our itinerary didn't lead us to meet many highly educated people, but those few we met spoke fluent English, albeit in a charming dialect quite different from ours.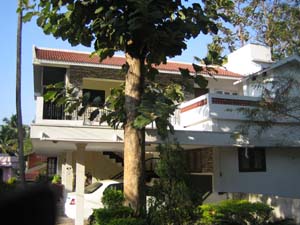 Joseph and Linda's house

In Aluva we wanted a homestay (bed and breakfast) rather than a hotel, and a friendly man pointed us at house below a dental clinic. The lady who opened the door explained, in completely fluent English, that she and her husband had rented the whole house for 2 months, but why didn't we come in for a drink anyway. After we'd chatted for half an hour, they invited us to use the second bedroom as their guests! Joseph, who was South African, and Linda were in business setting up call centres for banks and similar institutions. They normally worked 15 hours a day, but luckily for us they'd just been to a wedding and were having the day off. They were very positive about the British legacy - democracy and the legal system - though Joseph, who was a lawyer, said that Indian law was so corrupt that contracts were worthless.


In Thattekkad, we moved to a homestay run by a Sudha, a widow of 20 years, whose son was getting married in 2 days. Unlike Joseph and Linda, who had chosen each other, this couple's marriage had been arranged by their families. They had only met once, a month ago, at the formal engagement party, and the wedding would be the second occasion, although they'd spoken by phone every day in the meantime. They didn't have enough English for us to discover their real thoughts on all this, but clearly Sudha was scornful of love marriages. We understood that dowries were not paid in Kerala, but each side bought gold gifts. I was told that Sudha paid R26,000 for a gold necklace for the bride. And indeed, all the traditional womenfolk we met in Kerala were beautifully dressed, typically in saris, even if they were breaking stones in a road gang, and they wore all their wealth on their arms, ankles and necks, in bangles of pure gold.
| | |
| --- | --- |
| | |
| Sudha and her family offer welcome | The happy couple |
We were not invited to the Hindu ceremony, which took place in the bride's parents' house. But the reception in Sudha's house and the next door village hall was a grand affair with some 500 neighbours and colleagues sitting down to eat in shifts.

| | |
| --- | --- |
| | |
| The pineapple field | The farmer preparing the pineapple |
The day before the wedding we cycled to a nearby village, and stopped to ask what the crop was in a field by the road. "Pineapples", the farmer said, and went into the shed to fetch one, together with a machete to trim it ready to eat. He refused any payment - "They just grow here", he said.


The other guests in the homestay were an American couple, I guess in their 40s. They'd dropped out completely, stopped work and sold their apartment, and intended to spend the rest of their days backpacking! They had certainly made themselves part of the local scene, and appeared to be close friends of the family.
In the spice farm on the way to Idukki
On the way to Idukki, we stopped on the verge to eat our lunchtime water melon. A lady came by and, using sign language, invited us into the shade of her house. This was a 4-room farmhouse clinging to side of the gorge, with their crops of spices growing above and below. We shared our water melon and her bananas, and took some pictures. Not only were she and her family lovely people, but I guessed they had quite a nice lifestyle, with enough funds for the basics plus an enormous satellite TV!


From Alappuzhar, we spent a day cycling South along the intermittent coast road to Ambalapuzhar, where there was a major temple. It was a Saturday, and as we passed each hamlet, children would shout out "Hi, what is your name, how are you, how old are you, one pen please", until we found it a bit of a strain to respond enthusiastically every time! We stopped at a kiosk by a beach where fishing boats were hauled out, and ordered lemon sodas. When it came to pay, no one had enough English to tell us the price, so the local linguist was summoned. She turned out to be a nun visiting home from her nunnery in Valencia. Maria invited us to her family house, and we had the surreal experience of chatting in Spanish for an hour while they fed us banana fritters and coconut milk. Wonderful for an Indian family to have a daughter who'd done so well. But I guess they were a bit ambivalent about her vow of poverty, which they'd achieved with no vows at all! When we left, Maria kissed us on both cheeks, Spanish style, but quite outrageous in India.