The cycling
Rather than taking our own bikes, which we thought might give problems with our internal flights, we decided to buy bikes in Kochi. We chose mainstream gearless BSAs, because we thought they'd be easier to sell at the end. They only cost R2500 each, and we had a queue of people wanting to pay our asking price of R1500 when we left. They were good, strong bikes, but a bit heavy hard work up hills. We discussed our itinerary with the very helpful guy in the tourist bureau in Fort Kochi. He suggested that if we put the bikes on a bus from Aluva to Munar, that would deal with the hardest bit - a climb of some 1500m - and we could probably cope with the rest.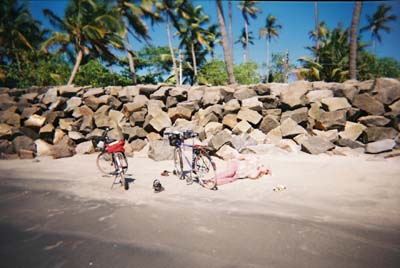 Our bikes on Vipin Beach

Maps were a problem. We bought a road atlas of Kerala, with a scale of about 1:600,000, and also a large fold-out map. Neither had contour lines, and both were largely works of fiction.

In the event, on our first day we took the ferry from Kochi to Enakulam, and then cycled on very busy main roads to Aluva. To be honest, this was not very pleasant. But at no stage on this day or subsequently did we feel endangered. The traffic is fairly slow, and used to cyclists. When we later caught buses we were terrified by their habit of overtaking on blind corners. But, on a slow bike, you can always take to the verge if you have to. I found that if I held my ground against vehicles approaching on my side of the road they pulled in or stopped - killing a foreigner is nearly as bad as killing a cow!

The plan from Aluva was to catch a bus to Munar. But there was a transport strike, so instead we went, on fairly level side roads, to Thattekkad, where we spent 3 days because we'd been invited to a wedding. Although the going was easy, we'd started late and didn't arrive until about 2pm. We discovered the hard way that if you haven't arrived by 1pm you're in trouble - the heat is excessive and you, we anyway, get seriously exhausted.

From Thattekkad we cycled the 15Km or so to Kothamangalam where we caught a bus to climb the 1500m to Munar.
| | |
| --- | --- |
| | |
| Roadworks near Munar - note the lady foreman! | Road back from Top Station |
In Munar we went trekking one day, and on the second put the bikes on a bus to climb the 500m or so to Top Station, then enjoyed the magnificent views of the mountains, lakes and tea plantations free-wheeling (mostly) back to Munar.

From Munar to Periyar is over 100Km, and pretty hilly, though without a decent map we weren't certain about this. Anyway, the local tourist guide said that the wild life was as good in Idukki, and it looked as if the road to Idukki was mainly downhill, so we changed destination. The first 40Km was certainly downhill - we had cramp in our hands from braking - but the views were superb. But, the road left the downstream gorge and took a different, uphill gorge, and it was too steep for cycling on our gearless bikes. After about 10Km of mainly pushing, we decided to give up. But no bus would stop for us - they didn't want the hassle of loading bikes away from a terminus. In the end we hired 2 rickshaws for the final 10Km, and, sod's law, found that we'd already finished the hard climb.
| | |
| --- | --- |
| | |
| The road to Idukki | We started at the bottom of this gorge! |
Idukki had no appeal for us, and the wild life turned out to be a myth. So, next morning, we took a bus to Periyar after all, and stayed there for 3 nights.

From Periyar it was about 110Km to Kottayam, our next destination, which we reckoned too far for a day's cycling, so we planned to stop somewhere en route and stay or catch a bus. In the event, by lunchtime we'd reached Mundakayam, after a tiring but magnificent mountain ride. There didn't seem to be anywhere to stay, so we caught the bus to Kottayam.

From Kottayam we took a ferry through the backwaters to Alappuzhar, where we stayed 4 nights. And finally, we cycled on the coast road the 60Km from Alappuzhar to Kochi. This was one of the most enjoyable rides. The road wandered through hamlets and small towns. It was a Sunday, and instead of bugging us the children were all in their best clothes going to church. (Kerala has a high Christian population, especially, it seemed to us, near the coast - 1 or 2 kilometres inland and there were lots of Hindu temples.) We stopped near one large church to enjoy the antiphonal singing through the open doors and windows. The antiphony is between priest and people, and the music was a strange blend of Indian and ancient European church music.

In all, this was not serious cycling. But it got us to meet some ordinary, and some extraordinary Indians, as well as miscellaneous other foreigners, as I'll recount in the next section; it certainly gave us some exercise; it got us into byways and villages that foreigners never visit; and it allowed us to enjoy the views in a way that would not be possible in an enclosed car or bus.

Next time, we'll take folding bikes with us, partly because they have gears, but also so that we can jump on a bus at any bus stop if we're exhausted!