Trips ashore
This is not the place for a comprehensive guide. But here are some of the trips we particularly enjoyed, which may appeal to other yachtsmen.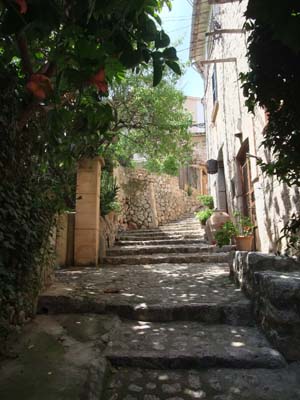 Fornalutx
Sóller from Puerto de Sóller There is a delightful, if rather pricey, tourist tram up the valley. Sóller is a fine town, with a plaza to sit with a drink, streets with handsome old houses, and a real produce market. The tourist office provides a excellent book of walks, including to the pretty villages of Biniaraix and Fornalutx.
The train from Sóller to Palma is scenic and fun.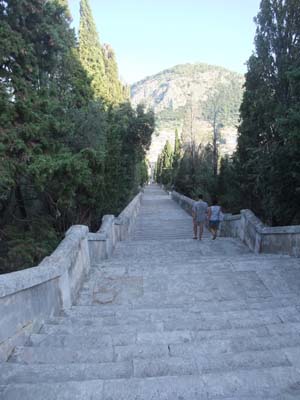 Looking down from the calvary
Pollensa is about 7Km from Puerto de Pollensa. There are side roads (start with Avenida de Llenaira) for cycling or walking, or frequent buses. The reward is an unspoiled old town, with the most magnificent plaza, and 2 great walks - up to the Calvary, and up Puig María at about 300m, with its monastery and views out to sea.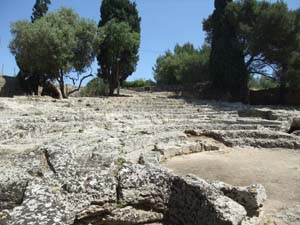 Roman Pollentia
Alcúdia, about 3Km inland from Puerto de Alcúdia, or a bus or cycle ride from Porto de Pollensa, is an equally unspoiled and attractive old town. The special attraction here is the excavated Roman town of Pollentia, with its forum and amphitheatre.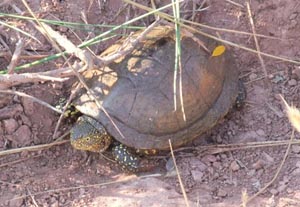 Walking the same way as us to Favaritx
The walk from Addaya to Cabo Favaritx and back takes about 4 hours, with steep, rugged tracks and superb views. Not recommended for bikes (we ended up carrying ours!)
Cycle ride from Fornells to Monte Toro Monte Toro is the highest point in Menorca, with views of all the island, and Mallorca in the distance. The ride from Fornells enjoyable, if somewhat energetic!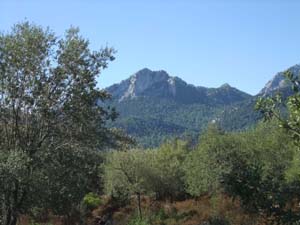 On the way to Campanet
Cycle ride from Puerto de Pollensa to Campanet This can be done almost entirely on side roads through lovely rolling countryside. The Camí Vell de Campanet is quite special.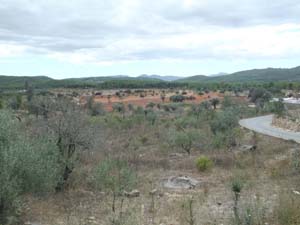 Near Santa Agnès de Corona
The cycle ride from San Antonio to Santa Agnès de Corona, with a diversion to the cliffs overlooking the Islas Margalides, is energetic but offers fine views of the countryside, and an excellent lunch in Santa Agnès.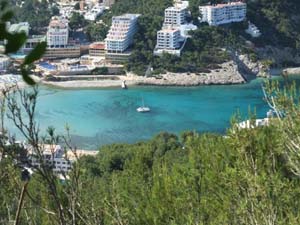 Looking into Cala Llonga from the walk
The walk from Cala Llonga to the Phoenician ruins is described in the free booklet from the Ibiza tourist office. Fine views, and the ruins are remarkable.