Secure anchorages for strong blows
However, in summer, there is no need to use marinas. There are several secure anchorages where you can ride out a blow to your own tackle in complete safety. Note, this is in summertime - in winter stronger winds and enormous swells can come from any direction, and when storms arrive you need to be ashore or in one of the few totally secure marinas.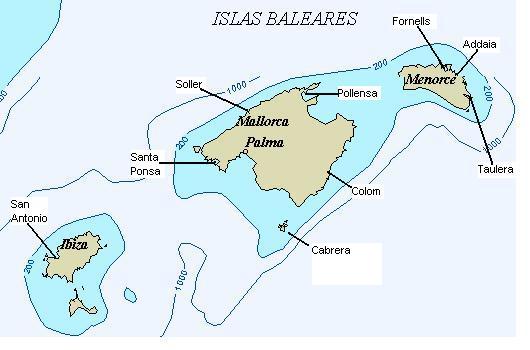 Secure anchorages
The secure anchorages are:
| | | |
| --- | --- | --- |
| | Ibiza | San Antonio |
| | Mallorca | Santa Ponsa |
| | | Puerto de Sóller |
| | | Puerto de Pollensa |
| | | Cala Colom |
| | | Cabrera |
| | Menorca Cala | Fornells |
| | | Cala Addaia |
| | | Cala Taulera (Mahón) |
Everywhere in the Balearics is within an easy day's sail of one or other of these anchorages.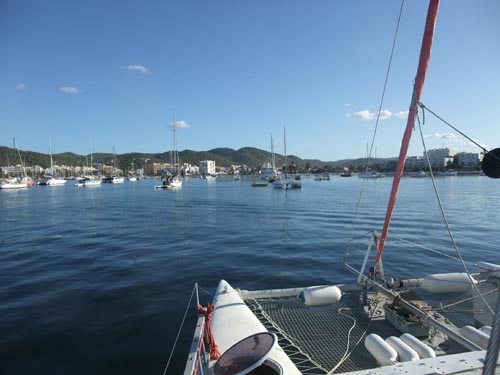 San Antonio
San Antonio is a magnificent bay with room, I would guess, for 100 yachts to anchor in safety in depths from 3m upwards. In the distance are superb, pine-covered hills. However, nowhere is perfect, and the beaches round the bay all have undistinguished hotels and apartment blocks just behind. The town has a few nice corners, for instance around the church, but mostly there are dozens of fast-food joints, and fashion and souvenir shops full of tattooed English youth.
We stayed there a week, using it as a base for walks and cycle rides into the lovely countryside, and 1- and 2-day sails to nearby calas. As for practicalities: there are good dinghy landing places with rings for making fast in the NE corner and on the north side of the promontory on the east shore with the Hawaii hotel. There is a free water tap near the first of these landing places. There are 2 big supermarkets in town, and a brilliant frutería near the second landing place.
Santa Ponsa
Santa Ponsa is the obvious destination if coming from Ibiza. There must be room for 100 or more yachts. The setting is lovely, and only slightly spoiled by the apartment blocks along the north shore. There is good shopping locally, and convenient public transport into Palma.
| | |
| --- | --- |
| | |
| Puerto de Sóller from the anchorage | and from the hills above |
Puerto de Sóller is gorgeous. There is room for maybe 2 dozen yachts at anchor, although later arrivals may have to anchor in as much as 15m. The buildings around the bay do nothing to detract from the magnificent setting of hills immediately around, and serious mountains just inland.
In 2011, we stayed a week, enjoying visits by tram to the town of Sóller, about 5Km inland, and walks in the hills to viewpoints and villages behind. There is a permanent Miró exhibition in the railway station in Sóller; and, in 2012, there was also an exhibition of Picasso ceramics.
Miró

We also took the train to Palma for a day (although we returned on the cheaper and more frequent bus).

In 2012, we arrived one midnight in May, direct from San Carles, in pitch darkness, and were very glad that the only other yacht at anchor was properly lit.

We landed the dinghy at a jetty in the NE corner of the harbour, and were allowed to fill our water containers at no charge on the main jetty to the west.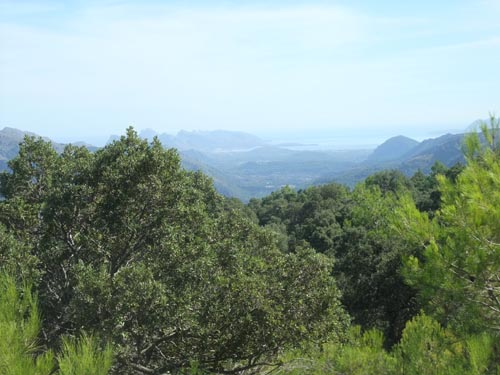 Bay of Pollensa from the mountains
Puerto de Pollensa is also lovely, but not in quite the same league as Puerto de Sóller. The pilot book (RCC) says that anchoring is not allowed in the sheltered water to the north of the harbour, but everyone, including us, does, finding sufficient space either amongst or outside the moorings. There is room for a virtually unlimited number of yachts to anchor, although later arrivals may be some way from the dinghy landing place on the inland end of the north wall of the harbour. There is a free water tap here, but it requires a special fitting that you buy from the feretería in the street one back from the harbour.
Like San Antonio, Puerto de Pollensa is a superb base: for walks, across the promontory to the north coast; for cycle rides in the not-too-hilly countryside inland; for visits to the towns of Pollensa and Alcúdia, both a few kilometres inland of their ports to inconvenience the pirates of old; and day sails to some lovely nearby small calas. In 2011, we had 2 stays of a week here, and again in 2012. Both years we left Razzmatazz for 3 weeks on a buoy in the care of a British yachtsman based there, while we made a visit back to England.
Colom
Cala Colom is an almost totally enclosed bay, with room for maybe 50 yachts to anchor north of the channel to the port in depths to choice. Uniquely in the Balearics, maybe in Spain, a charge (of around 7 euros a night) is made for anchoring. For this they provide showers and unlimited undrinkable water!
The cala is lovely, but less dramatic than the previous 3. Also the excursion possibilities, on foot or bicycle are not so good. But there is a host of beautiful small calas nearby to visit by boat.
| | |
| --- | --- |
| | |
| Anchorage in Cabrera | Looking towards the castle |
Cabrera is an island, or rather group of islands of which Isla Cabrera is the chief, lying off the south corner of Mallorca.
You need a permit to visit, and are then limited to one or 2 days, and have to use one of their (free) bouys. In June, apart from Friday and Saturday nights, when presumably the locals have booked all the bouys, we found no difficulty, and we could have stayed for longer
You can go for walks on Cabrera itself, which is a nature reserve, provided you keep to the paths. Or you may be lucky enough to get a guided walk, which may wander off piste.
Cala Fornells from Monte Toro
Cala Fornells is probably the biggest cala in the Balearics, with room for 100's of yachts. In theory, the cala is protected, with anchoring prohibited in some or all of it, and with free buoys provided. However, the buoys didn't appear in 2011, apparently for lack of funds with a new, right-wing government, but were laid late in 2012.
The views of wooded hills in every direction, and the unspoiled village of Fornells itself, are lovely. We anchored in several corners, but principally in the SW near the yacht club, where we sat out a force 6 overnight very comfortably. There is also a public water tap in the street alongside the club with delicious spring water.
Cala Fornells is a good base for walking and cycling excursions. It is also a superb venue for dinghy sailing. The village has adequate shops and at least one good and affordable restaurant (Mitja Lluña).
South end of Cala Addaia
Cala Addaia competes with Puerto de Sóller for being the most beautiful secure anchorage in the Balearics. And it is almost certainly the best sheltered - it may well be practical to lie all winter on a buoy or at anchor there. There is lots of space with 2m depth - deeper draft craft may have to squeeze up a bit. The village, at the top of the hill, is undistinguished, but does have a supermarket, a chandler, and somewhere to hire a car or scooter.
There are great walks and cycle rides. It is very convenient to visit Mahón by bus or hired wheels, knowing that the boat is safe.
| | |
| --- | --- |
| | |
| Cala Taulera | Es Castell |
Finally, Cala Taulera, in the entrance to the port of Mahón, is a secure, free anchorage. However, to me it feels a bit hemmed in, and it gets crowded with up to 30 boats anchored. We sat out a blow there, and had the worry of other yachts dragging around us, either because they had insufficient scope or inefficient older design anchors.
It is an easy dinghy ride across to Es Castell, the small town on the opposite, south side of the Mahón inlet, where there are good shops. Mahón itself is a long dinghy ride, but there is a convenient landing place by the mermaid. We filled our water containers at no charge at the fuel depot in Cala Figuera.