Sailing to and between the islands
Of course, the sea breeze doesn't blow offshore. However, we managed to find nice breezes for most of our offshore sailing, because we were not really on a schedule, and we could afford to wait until the wind was the right strength and a sensible direction.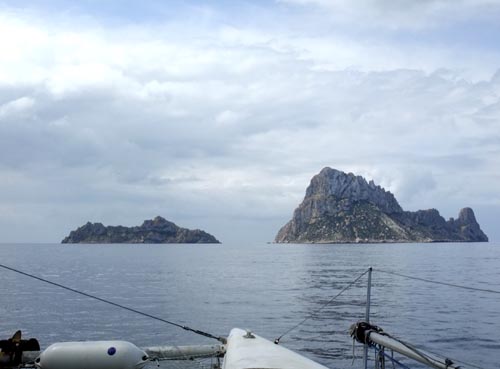 Islas Vedrá and Vedranell
We sailed the 50 odd miles to Ibiza from Moraira, which is the closest mainland anchorage with good shelter from the prevailing, unhelpful easterlies and north-easterlies. After several days when it was blowing NE 5 to 6, we set out with a NE 4, and a promise of backing SE 2 to 3. We were half-way across the shipping lanes off Cabo de la Nao when the north-easterly stopped and left us becalmed in a nasty slop. So, we did have to motor for a couple of hours until the south-easterly arrived, and we then had a brilliant sail to Isla Vedra on the SW corner of Ibiza, anchoring at 0100 in Cala Badella.
From Ibiza to Mallorca (57 miles), we set out from Cala Llonga, where we had been visiting friends, aiming at Cala Santa Ponsa. We set out at 0930, and had to motor for 45 minutes to clear the Isla de Santa Eularia in the fickle morning winds. But, from around 1000, the wind filled in from the SE, so that we made most of the crossing at 6 to 7 knots until we came under the shadow of Tagamago, and had to motor the last mile to our anchorage in Cala Sant Ponsa.
We sailed from Mallorca (Puerto de Pollensa) to Menorca (35 miles) twice. The first time we had a boisterous south easterly that backed southerly. We reached Cuitadella at 1700, but couldn't find anywhere we fancied to anchor, so continued to Cala Morell on the north coast, all except the first and last half miles under sail. The second time we were cruising in company with a boat with powerful engines, and had to motor the first 2 hours to maintain station, before an increasing southerly let us make good speed to the NW corner of Menorca, where the wind died and we had to motor the last 5 miles to Cala Fontanellas.
From Menorca to Mallorca, the first time we were cruising along the south coast of Menorca intending to reach Ciutadella when we realised the wind was fair, so continued to the east coast of Mallorca and anchored when the wind failed in Cala de sa Font. The second time we sailed from Cala Morell in a southerly that allowed us to make 8 knots most of the way to Pollensa on a close reach.
Portinatx
From Mallorca to Ibiza, we left Cala Portals de Vels, in the bay of Palma, at 0730, hoisted our biggest spinnaker at 0745, and only dropped it again to enter Portinatx at 1750.
Finally, from Ibiza to Sant Carles, a gentle easterly allowed us to make only 3 to 6 knots, so that we reached the Isla Columbrete Grande at 2245, where we picked up a buoy. The next day, the wind failed us completely, and we motored almost the entire 26 miles to Peñíscola. The following day, a good sea breeze gave a fast sail close hauled to Sant Carles. For this voyage, my impatience had made us set out with a forecast of little wind, rather than wait for 3 or 4 days until it was forecast to pick up.