Plentiful overnight anchorages for when the breeze fails
In our 2 seasons we hardly used the engine except for entering and leaving anchorages. Partly, we managed this because Razzmatazz, our catamaran, will sail in 5 knots, and sail well in 10. But, more significantly, we mostly didn't have a schedule. Our strategy, when cruising round each of the islands, was to set out when the wind picked up, and anchor when it failed if we hadn't reached the cala we fancied.
Apart from the north coast of Mallorca, which does have a lot of unbroken, high cliffs, you are never more than 5 miles, usually less, from a cala where an overnight stop is possible in settled weather. Out of the dozens on offer, our favourites are:
Ibiza
Cala Binirras
Cala Mastella
Cala Talamanca
Formentera
Mallorca
San Elmo
Cala Llado
Cala Figuera
Cala Murta
Cala Molto
Cala Entugores
Menorca
Cala Morell
Cala Fontanelas
Cala Santa Galana
Cala Coves
| | |
| --- | --- |
| | |
| Cala Binirras | and looking seaward at dusk |
There are several other calas that would be on anyone else's favourites list - they may join ours later - but we haven't managed to visit them yet.
Several of the most beautiful calas on Ibiza are spoiled by overdevelopment - especially Cala Llonga and Cala San Miguel. However Cala Binirras, just by Cala Miguel, has nothing but a beach restaurant and a few fish huts. The entrance is protected by a glorious vertical column, with deep water either side.
Cala Mastella from the fish restaurant
Cala Mastella is also unspoiled, with only a bar on the beach and a fish restaurant on a rocky shelf to one side. However, the holding is poor actually in the cala, so it pays to anchor outside.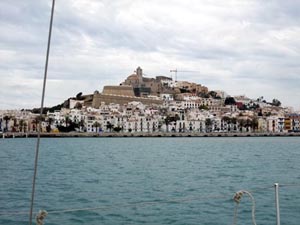 Ibiza old town from the sea
Cala Talamanca is not beautiful, but it is handy for Ibiza City. There is a dinghy landing on a beach by the Argus Hotel in the NW corner protected from the swell, a good general store nearby, and the old town is about 30 minutes walk away. However, if there is any east or south in the wind, Cala Talamanca becomes uncomfortable in force 5, and dangerous with any more. Beware grounding on the uneven weed-covered bottom inshore - we did, and spent a happy hour winching to the anchor to drag clear.
Ensenada del Cabrito off Formentera is a protected Posidonia location, meaning that, in season, anchoring is not permitted but you can book their free mooring buoys. However, in 2011 the buoys did not appear, and you could anchor north of 2 prohibition buoys. We anchored there in June to explore the Estanque del Peix, a lagoon with an outlet to the sea, which would offer a very secure mooring. We sounded and waded in the entrance, finding it just over 1m deep, but with the 1m channel only 2 or 3 metres wide - so, not suitable for Razzmatazz, which draws only 1m, but has 4.5m between the hulls.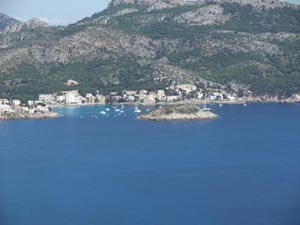 Sant Elmo from Dragonera
Sant Elmo is another protected Posidonia location off an attractive village, with the dramatic Isla Dragonera to seaward. We ate well in the village, looking out over the anchorage (we rate a good view of our boat almost as important as the food!). One of the village stores, at the north end, is run by a Frenchman and has some excellent produce.
| | |
| --- | --- |
| | |
| Dragonera from the north | Cala Llado |
Cala Llado is just opposite San Elmo, on Isla Dragonera. There is a big buoy, which we were invited to share by a Spanish yacht already moored to it. There are well maintained walks to either end of the island, and to the summit, with fantastic views.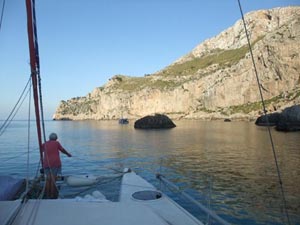 Cala Figuera, looking out from the head
From Puerto de Sóller to Puerto de Pollensa is around 35 miles, and the winds can be fluky on the north coast of Mallorca, with the sea breeze fighting the gradient wind to give a calm. Cala Figuera is a beautiful and dramatic stopping point 10 miles short of Pollensa. It also makes a nice day trip from Pollensa. We anchored right at the head, behind a big rock.
Cala Murta
Cala Murta is only 5 miles from Pollensa, and makes a nice day trip. It is completely unspoiled, having only one luxury dwelling hidden in the trees, and a small beach bar. The lie of the cala is such that the setting sun falls on any anchored boats through a cleft in the valley. It can get crowded, but the local motor boats go home in the evening. We actually had it to ourselves one perfect night in August.
Cala Molto
Cala Molto makes a good stopping point when transiting from the north to east coast and vice versa. It is beautiful, undeveloped, with shops about 30 minutes walk away in Ratjada, and good walks in the woods.
Cala Entugores, on the south coast is advertised as too shallow. We anchored a 2.5m in the centre of this beautiful, deserted cala, with excellent protection from the east.
Cala Morell
Cala Morell is stunning, and unspoiled despite the development. It is best visited in June, before the summer moorings are laid, when you can work right into the tiny cala to anchor in 5m. On our second visit, in August, there was really only room for 3 or 4 boats in 10 to 12m, outside the moorings.
We visited Cala Fontanelas, some 2 miles east of Cala Morell, because Cala Morell was full. But it is really a better anchorage, with room for dozens of boats, good protection except from the north, and an easy escape. It is also equally beautiful, in a wilder way.
| | |
| --- | --- |
| | |
| Anchored in Cala Santa Galana | the dinghy landing up the river |
Cala Santa Galana, on the south coast, is a bit spoiled by the holiday developments, but the setting is lovely and the anchorage secure. Its unique feature is that you can take the dinghy up a small river to land right in the village.
Cala Coves
Finally, Cala Coves, on the south coast of Menorca, is a delightfull small cove where you need to tie to a rock or the cliff face and deploy a stern anchor. It gets its name from the dozens of caves carved into the cliffs, presumably as prehistoric dwellings or burial chambers.