Back to Almeria and England
From Salobrena we took the bus to Almeria past ghastly el Ejido, and vast coastal strips of fields covered in plastic. However, I suppose we are glad enough of fresh salad in wintertime, and it has to grow somewhere.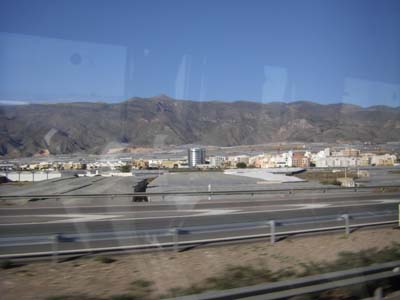 El plastico in el Ejido
Next morning we cycled along the coast to the airport where, this time, the checkin insisted that our bags should be charged as bikes.
I think the folding bikes justified the hassle of taking them. Some parts of the trip were great for cycling: others would have been boring, or dangerous, or just too far to cover in the time available. We got our exercise, renewed our tans, ate a bit too much food and drank too much surprisingly excellent local wine. We saw some nice places and skipped some less nice. And we got some Spanish practice, though not enough, as most of our social contact was with other foreigners.