To Sauzon, Belle Île – 30 June, 1 to 4 July, 19, 12, 30, 50 miles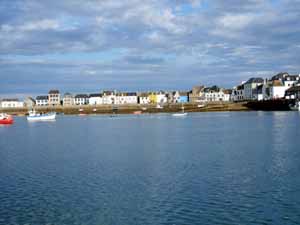 Harbour in Île de Sein

The winds were behind us, but very light for the next few days. We left Le Conquet hoping to round the Raz de Sein and reach Audierne, but the wind vanished 10 miles before the Raz, and we decided to motor to the Île de Sein while we still had a fair tide. The Île de Sein has an inner harbour that dries at low water springs, with very hard sand that requires a very effective anchor – we'd previously dragged there using a CQR and also with a Fortress. However, our Kobra dug in at first drop, and there was enough water for us to remain afloat.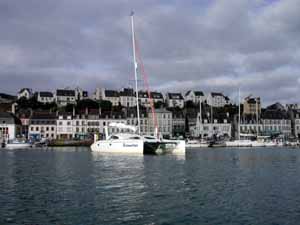 Anchored in Audierne

Next morning we sailed in a gradually increasing breeze to Audierne, where we might have had enough puff to continue round Penmarc'h on the tide. However, we love Audierne, so went up the short stretch of river to the town. There is a marina right in the town, but, with the blessing of the harbourmaster, we anchor fore and aft on the other side of the channel to get the best view for nothing.

Next day, it was raining, so we stayed put and did some more fitting out. But the following day was fine, with a WSW F2, and we sailed all except the last couple of miles to Loctudy, where we anchored half-a-mile up the river opposite a chateau. And then we had a day when the wind, light at first, picked up to a good F4, allowing us to zoom past the Îles de Glenan and the Île de Groix direct to Belle Île, where we entered the beautiful drying inner harbour of Sauzon to pick up buoys fore and aft.





Sauzon from the harbour
Upper harbour with Yamcat
Belle Île is another good jumping off point for North Spain. However, the weather pattern seemed to be one of fierce depressions further offshore, with variable, mainly favourable but unsettled winds down the coast. So, we decided to continue our coastal passage, enjoying the French food and wine the while.

Next day, we moved further up the harbour to lie to our own anchors – still chargeable, but half the price. Nearby was Yamcat, another catamaran the same size as Razzmatazz, a Woods Sagitta 30, and we swapped stories with her crew, Alan and Jean.