To Santander, San Vicente de la Barquera and Ribadesella ľ 25 to 29 July, 32, 30, 0, 32 miles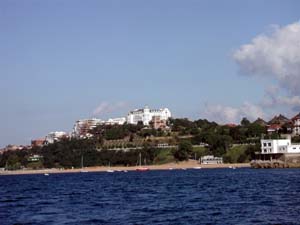 Playa de la Magdelena, Santander

A following F4 rising F6 took us quickly to the entrance to Santander. We could have continued, but San Vicente has a tidal entrance which we might have missed, and Santander is a nice town anyway. We anchored off the Playa de la Magdelena, a mile below the town, and took the dinghy in to the always-full town harbour.




The wind next morning was fitful, and we had to motor for an hour or so until the sails filled, allowing a very slow but pleasant passage to San Vicente, where we entered at half flood. There was a new marina, for locals only, but it meant that the lagoon was now free of moorings so we could anchor near the town over clean sand that only dried for a couple of hours on the tide. The skipper of a local tripper boat pointed out where the best water was to be found ľ a typically friendly Spanish gesture when he might have resented our presence.
| | |
| --- | --- |
| | |
| SanVincente town | Lookingeast from the lagoon |
We stayed put next day doing jobs, as the weather was not up to our standards. We toyed with staying several days and taking a bus inland to explore the Picos de Europa, but there were clouds on the peaks and we really wanted to keep moving. In the afternoon, Salammb˘ came in and tied up to the fish dock.





Salammb˘ with the Picos behind

Next day we enjoyed perfect weather and F3s between north-west and north east to pass possibly the most spectacular stretch of this stunningly beautiful coastline. As we came abreast of Salammb˘, which had left earlier, we managed to capture some pictures of her with the Picos in the background.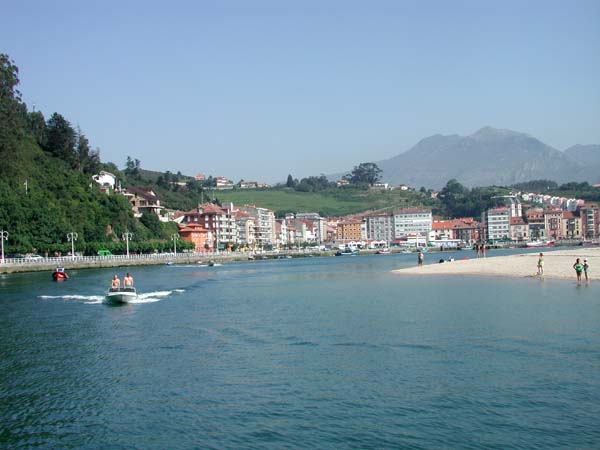 Ribadesella

We entered Ribadesella just after low tide, having seen a dredger come out and therefore believing it safe. And we did get in, but at one point the channel narrowed to possibly 10m wide with only 1.5m on the depthsounder as we swept in on the tide at 6 knots or so. We tied to the town quay, being very glad of our 2 big spherical fenders and our aluminium ladder.




Cuevas
Ribadesella, or rather the area round it, is too beautiful to rush, so next day we got out the bikes to get some exercise and explore inland. By chance we arrived along a path at a village called Cuevas. When we took the proper road out, we found it ran through a natural cave perhaps 300m long, and thence up into the hills.