Faro lagoon – 12 to 18 September
Faro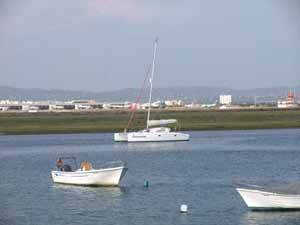 Between the beach and the airport

Our main aim was to find somewhere to lay up, so we spent the next few days shuffling back and forth, nearly all under sail with lots of short tacking, between Faro town, Olhao and Collatra. There are dozens – possibly hundreds – of small boats whizzing round the lagoon from dawn to sunset, all apparently extracting a living, or at least a contribution. Although their wash was a bit of a nuisance, we found they slowed down for dinghies and boats with low freeboard.

Faro itself is a great town, with a small historic centre and a very attractive, low-rise commercial part. There are plenty of narrow street with tiny squares. The market is enormous and humming with life. The laying up possibility is Bruce's yard, which would be ideal except that his limit on beam is 5m. We explored up a creek between the town beach on a dune by the seashore and the airport.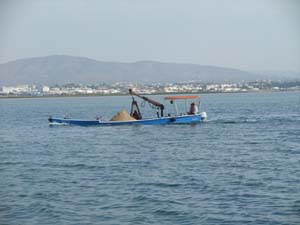 Workboat off Olhao

Olhao is also a lovely town, with another brilliant market. The anchorage is just by the market, but there is only space for 3 or 4 boats, and those that have a spot tend to linger. There is a yacht marina and a small boat marina, both with waiting lists, and a wonderfully ramshackle yard, offering low prices but no room this winter for another cat.


Collatra is a long, sand dune island, with a drying inner lagoon where people leave their boats for months. We saw a trimaran that we'd met in Sao Martinho on the way down, tucked up nicely high in the dunes. But we didn't think either we or our insurance company would be happy to leave Razzmatazz there unattended.

So, we decided to hire a car and explore further afield more quickly. At the suggestion of the tourist office, we cycled out to the airport, but were offered such absurdly high prices with minimum hire periods of three days that we turned round and came back to town. As we passed the railway station, we noticed a hire company shacked up in a portakabin, and they gave us a car for the next day at a very reasonable price. We drove into Spain. First, we got an offer in Aymonte, but a quite bit more than we wanted to pay, and then an offer in El Rompido which we thought reasonable, so we plumped for it, although it meant staying afloat. However, we liked El Rompido as a place, thought the marina looked especially safe, and liked being somewhere where we could speak the language.