To Boulogne – 16 June, 24 miles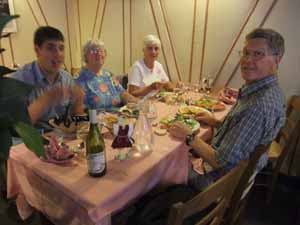 Dinner with Chris, Val and Luke

The wind was light north-westerly, so we decided on Boulogne rather than Eastbourne. We managed to sail up to the shipping lane, but then had to motor to Cap Griz Nez to maintain a reasonable speed and course, then had a nice close-hauled sail in an increasing breeze to Boulogne. In the harbour, we were welcomed by fellow Royal Harwich club members Chris and Val on Calidris. They were on their way back to Woolverstone, and we met purely by chance. By another happy chance they had booked to eat in Le Doyen, where we also planned to eat having discovered it the year before. So, we had a very nice dinner together.