Background
We'd set out from Woolverstone, near Ipswich on the English east coast, bound for the Algarve in 2005. However, when we arrived in the Spanish Rias, we decided they were not to be rushed, so laid up there and spent some 4 months in 2006 exploring them, and getting to know several Spanish families as well.
Finally we set out from the Ria de Vigo in mid-September. The famous Portuguese trades had dropped to almost nothing, and we'd only reached Povoa de Varzim (near Oporto) when the tail end of a hurricane came in on October 1 giving F9 south-westerlies. For the rest of the month the weather alternated between south-westerly gales – we had two more F9's – and fickle almost nothings. The marinas, especially Cascais near Lisbon, were full of boats waiting for a window to head south for the Algarve or the Canaries.
We eventually got to Arrifana, a bay about 20 miles north off Cape St Vincent, the gateway to the Algarve, and anchored for the night with a promise of F2's next day. In the event the day dawned with a south-east F6, which would certainly be F8 or more at the cape, so we retreated to Lisbon and laid up, very economically, in Seixal. We then planned to bring Razzmatazz home the following year, sell her, and buy a powerful motor-sailor. However, on our voyage home in the gentler conditions of the bay of Biscay, we remembered why we loved Razzmatazz, and resolved to refurbish and strengthen her and try for the Algarve once more.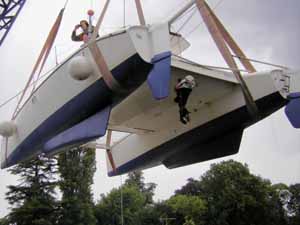 Razzmatazz with new keels and rudders
being launched

Accordingly we spent a horrific amount of time and money over the winter of 2007/8 replacing the dagger boards and lifting rudders with fixed keels and rudders, installing wheel steering, as well as other improvements. We didn't manage to launch in 2008 until July, when our limited test cruise to North Brittany in the strong winds of that summer gave us new confidence in the boat's ability to handle rough weather and – more important – allow us to cope with the conditions.

For any readers new to Razzmatazz, I should mention that she is a Dazcat 9.2 built in 1997. She was originally a stripped out racer, but we have added comforts and, inevitably, slowed her down. Her 6m beam stops us from traversing, for instance, the Canal du Midi, and makes most marinas expensive. She sails beautifully in F2 and up, but has only an 8HP outboard for calms and harbour manoeuvres. We have 3 downwind sails: a large spinnaker with a St Andrews cross on it, known as Mr Andrews; a smaller spin with a Scottish lion, known as Mr Lion; and a blue genneker set on a furling luff, known as Mr Blue.